Cyberpunk 2077 Just Got Sequel News No One Saw Coming
CD Projekt
Having experienced a rough launch in 2020 marred by bugs and glitches after years of hype, CD Projekt Red's "Cyberpunk 2077" remains one of gaming's most notorious cautionary tales. However, in recent weeks, the futuristic action RPG has experienced a tremendous resurgence in both player numbers and reception. Now, it looks like there may be even more "Cyberpunk 2077" in the future.
Advertisement
Off the back of the highly successful "Cyberpunk: Edgerunners" Netflix series, "Cyberpunk 2077" has been given a second chance as players have flocked back to Night City in massive numbers. The game has dramatically improved since its December 2020 release and has been subject to several updates and patches. And now, CD Projekt Red is ready to embark upon a new chapter within the game's world.
In September, it was announced that "Cyberpunk 2077" would receive its first DLC expansion, "Phantom Liberty." Unfortunately, the revelation that "Phantom Liberty" was the only planned DLC  didn't get the reaction CDPR hoped for, with fans wanting the developer to continue adding to the original game in the spirit of making it into what it was initially promised to be. However, for any "Cyberpunk 2077" fans who wish to see more content in the future, a recent announcement spells good news for the future of the IP.
Advertisement
Cyberpunk 2077 will be getting a sequel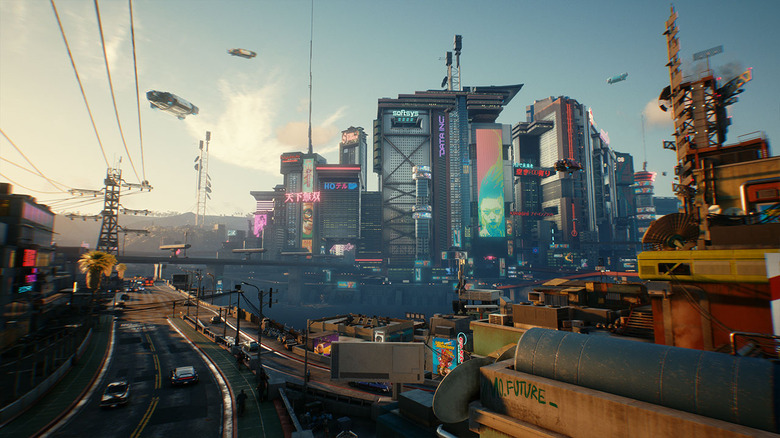 CD Projekt
As announced by CD Projekt Red's investor account via a Twitter thread detailing the developer and publisher's upcoming schedule, a sequel to "Cyberpunk 2077" has officially been revealed under the codename "Orion." CDPR's official Twitter account later posted, "'Orion' is a codename for our next 'Cyberpunk' game, which will take the 'Cyberpunk' franchise further and continue harnessing the potential of this dark future universe." 
Advertisement
In the aftermath of the announcement, many "Cyberpunk" fans seemed excited about the franchise's future. However, some fans urged CD Projekt Red not to rush the sequel as the company did with its predecessor. In response to the announcement, Twitch streamer Cohh Carnage said, "Take the lessons learned from the Cyberpunk 2077 release and make this something special, guys. Mistakes were made. Hopefully lessons learned. Many of us are still very much here for this! MAKE IT COUNT!" Twitter user FMcSchotty was a bit harsher in their feedback, saying, "Do whatever you do, just don't lie again. You have a talented team, and you mudded your reputation for an extra buck. "
Overall, many "Cyberpunk 2077" fans seem excited that there's a sequel in the works. However, many in the community still vividly recall the disastrous launch of the original game, and only time will tell whether history is set to repeat itself.
Advertisement