Harley Quinn Actor Has A Serious Issue With Chris Pratt's Mario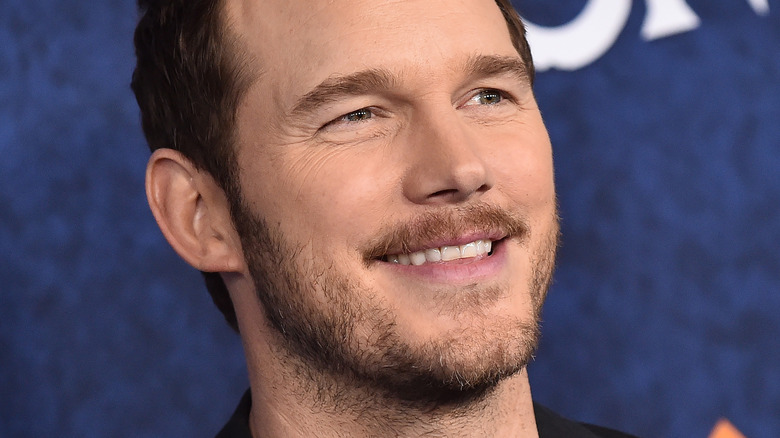 DFree/Shutterstock
"The Super Mario Bros. Movie" is introducing audiences to Chris Pratt's take on Mario, but it looks like one particular voice actor from the entertainment industry isn't a big fan.
After the first trailer for Nintendo and Illumination's animated collaboration dropped, the first snippets of Chris Pratt's vocal rendition of Mario garnered an extremely mixed reception from viewers. Despite the fact that Pratt insisted he was bringing something totally new to the role (per Variety), and despite the praise heaped upon him by the "Mario" movie's producer, the leading man's spin on everyone's favorite hero plumber has been met with derision from a vocal section of the fanbase. Some fans roasted Chris Pratt's Mario with a hilarious comparison to John Roberts' Linda Belcher from "Bob's Burgers," while other fans praised Mario's alternate voices in other languages for being far closer to what they would expect the character to sound like. Some fans have even edited the new trailer to make Mario sound much closer to the games.
Now, the latest to level criticism at the film's casting choice is none other than distinguished voice actor Tara Strong, known for her portrayal of DC Comics' Harley Quinn and numerous other beloved cartoon characters, including Bubbles in "The Powerpuff Girls" and Raven in "Teen Titans Go!" But while many have directly targeted Pratt's performance as their main complaint, Strong's frustration with the "Guardians of the Galaxy" star's casting is for a completely different reason.
Tara Strong thinks Charles Martinet deserved the role
Eugene Powers/Shutterstock
It seems that Tara Strong's issue with Mario's movie casting isn't about who plays the red-and-blue plumber, but who doesn't. Following the release of the first trailer, Strong tweeted a picture of herself with Charles Martinet, the longtime voice of Mario in games, along with the caption, "It should be Charles."
While Strong clarified in a follow-up tweet that she feels Pratt is a good actor, she remained steadfast in her opinion that the character's recasting was motivated by corporate apathy. "Voice actors – I'm gonna put my heart & soul in this for at least 20 years, help sell billions in merch, make the studios millions of dollars & make generations around the world happy. Hollywood – We don't care," she tweeted. 
That last sentiment will most likely ring true to fans and actors associated with the "Scooby-Doo!" franchise, who likewise felt the sting of being replaced in a big budget Hollywood project. When it was announced that most of the cast members who had been playing the Mystery Inc. gang were being replaced for 2020's "Scoob!," it caused a great deal of confusion among the franchise's diehard followers. Longtime Daphne and Shaggy voice actors Grey DeLisle and Matthew Lillard likewise expressed their disappointment at not being asked to reprise their roles. To Tara Strong's point, it must feel like this exact thing is happening all over again with "The Super Mario Bros. Movie."
Strong also responded firmly to a fan who insinuated that Martinet would be incapable of recording multiple lengthy lines in his Mario voice, simply saying, "Literally not one thing about your tweet is true."
Fans show their love for Charles Martinet's Mario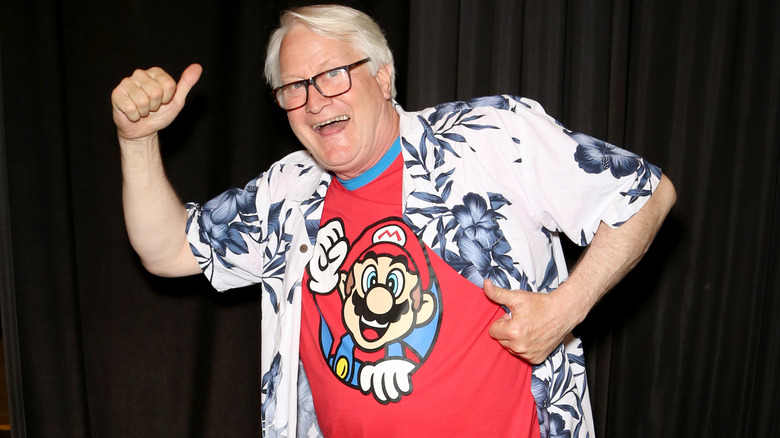 Gabe Ginsberg/Getty Images
While Martinet does have a part in "The Super Mario Bros. Movie," as Nintendo's September 2021 Direct revealed, it remains to be seen how substantial that role is and which character he'll portray. It won't be his first time appearing on the silver screen either, as the Mario voice actor joined the iconic anime "Dragon Ball" for the English dub of its 2022 film "Dragon Ball Super: Super Hero." Still, for many fans, it seems to be a point of contention that Charles Martinet is playing any character in the upcoming Nintendo adaptation other than Mario.
In a heartfelt thread, Strong requested that fans share stories of Martinet. She remarked, "I happen to know a certain earth angel who could use some love tonight... I love him so much that now we insist on being next to each other at all cons." 
Following a number of lovely stories from fans and admirers, the beloved Mario actor responded to her and the goodwill from commenters. "Your love and kindness mean more than you could ever know, And genuinely touched my heart," he tweeted. "My little eyes seem to be leaking today... with tender affection. Thank you."
It remains to be seen whether Chris Pratt's rendition of Mario will win over fans of the games, but it's safe to say the debate will continue at least until the film's release.