The Internet Can't Get Enough Of Megan Thee Stallion Dancing With Master Chief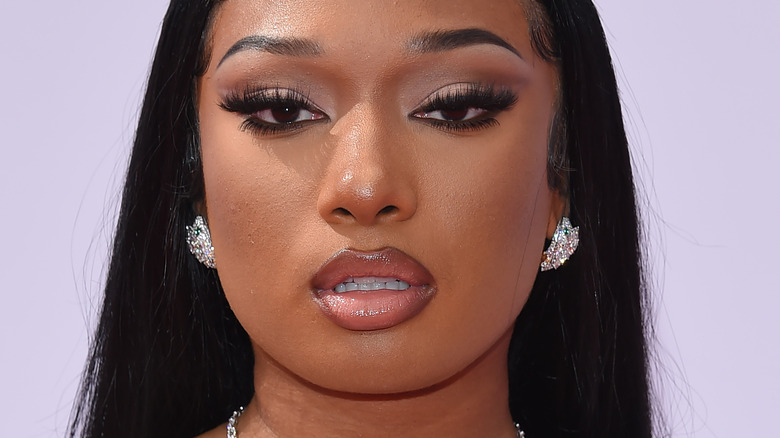 DFree/Shutterstock
Master Chief has had it rough. Between fighting numerous battles against the Covenant and the Flood, being betrayed by his trusted companion Cortana, and getting tossed out into space for months on end before being recovered, it can occasionally seem like the "Halo" hero has barely ever caught a break in the two-decades-plus that he's been active. That's not even to mention the numerous terrible things Master Chief has done, which he no doubt carries as a hefty burden. Fortunately for John-117, he finally got the chance to blow off some steam over the weekend, stunning audiences at TwitchCon San Diego 2022 as he danced on-stage next to one of the most popular rappers out there.
Advertisement
Megan Thee Stallion, who made waves on Disney+'s series "She-Hulk: Attorney at Law" when she twerked alongside Tatiana Maslany's verdant superheroine, engaged in yet another viral dance — this time with Xbox's best-known mascot. As the musician performed at TwitchCon, an individual dressed in a stunningly detailed Master Chief cosplay joined her up on stage to get loose with a few moves of their own. Footage of the concert quickly spread and the internet has started buzzing about what may just be the unlikeliest and most entertaining gaming crossover yet.
The internet is enthralled by this surprising Halo team-up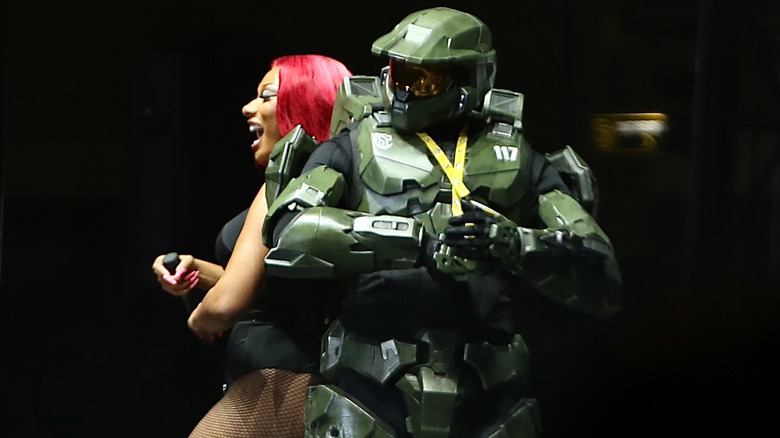 Robin L Marshall/Getty Images
Megan Thee Stallion's unexpected performance with Master Chief may have only lasted for a few minutes at TwitchCon, but it'll be a whole lot longer before the spectacle leaves the collective thoughts of the internet. Numerous fans took to social media to comment on the bizarre team-up. "My favorite part of twitch con has to be Master Chief dancing with Megan Thee Stallion," Twitter user @tiptoetingles tweeted, sharing a video of the unexpectedly hilarious moment.
Advertisement
Other commenters echoed sentiments of confused amusement. Some jokingly treated Master Chief's appearance as canonical to the games, praising the event as a welcome reprieve for the battle-worn "Halo" protagonist. "Master Chief really is the luckiest spartan," @loverachael tweeted.
The viral moment marks a spot of positive press for TwitchCon San Diego in what has otherwise been a controversial year for the convention. Even before the event began, TwitchCon's original COVID guidelines caused an uproar among fans. In addition, Megan Thee Stallion's deal with Twitch came under fire well before her concert, since the announcement of her show arrived around the same that Twitch announced plans to change the revenue split it offers streamers. Misfortune plagued the gathering further when Twitch streamer Adriana Chechik was tragically injured in a foam pit at TwitchCon, breaking her back in two places.
Advertisement
While TwitchCon faces plenty of issues at the moment, fans can at least credit the event for allowing them to see Master Chief bust a move in a setting other than "Fortnite." As for Megan Thee Stallion, only time will tell which beloved pop culture character she shares the stage with next.