Ludwig Reveals The Secrets Of His Financial Success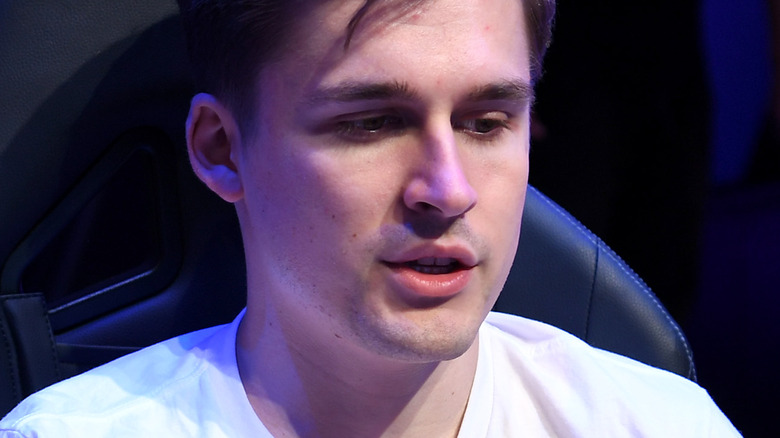 Denise Truscello/Getty Images
There's no doubt that Ludwig Ahgren is one of the most successful content creators on the internet today. He became the most subscribed streamer on Twitch on March 22, 2021, after he streamed for 31 days straight during his infamous subathon. He then left Twitch for YouTube just a few months later, where he's thrived. He has also diversified his online presence. So, while YouTube is still where the majority of his efforts go, Ludwig is also one of the hosts on a Podcast called The Yard, runs a merch store called Mogul Merch and is the co-founder of a company called Offbrand, which invests in the future of streaming by helping creators produce high-production value content, such as xQx's new game show "Juiced." So, how did Ludwig build this social and financial empire?
In a recent interview with financial YouTuber Graham Stephan, Ludwig discussed how he got to where he is today. He talked about how he initially wanted to have a career in comedy, but found it impossible to pay his living expenses and maintain a healthy lifestyle while constantly having to travel through L.A. traffic to different sets. It was at this point that his friend and roommate Slime turned him onto streaming and he picked up the skills that would eventually lead to his success.
Ludwig's success is all about routine
In the interview, Ludwig talked about how he was the head of marketing for a vape company when he first started streaming part-time. After the CEO of the company passed on one of his ideas, he spent the next few months studying streams while he was at work and then streaming when he got home. Ludwig's background in comedy has almost certainly contributed to his skills as an entertainer, but this concept of looking to other streams to gauge the popularity of different kinds of content seems to be the foundation of his practices going forward.
Stephan asked Ludwig to walk the viewers through what an average day looks like. Ludwig explained that he wakes up, rides his Vespa to the gym, exercises, takes calls, and then gets to work. "Noon to two is R&D. So I look at every single streamer who I think is doing something right," he said. "I try to see what they're doing – see if there's something I can pull from it. If I feel zero inspiration, I'll look at YouTubers that I like. If I feel zero inspiration, then I'll just look at things that I've done and I try to think of what I will stream that day."
Ludwig has also noted that a key component to his financial success has been separating himself from large sums of money. He noted that his history with gambling addiction taught him early on that the best way to manage his money is for him to simply not have access to it.