Fortnite: How To Get The Evil Dead Crossover Items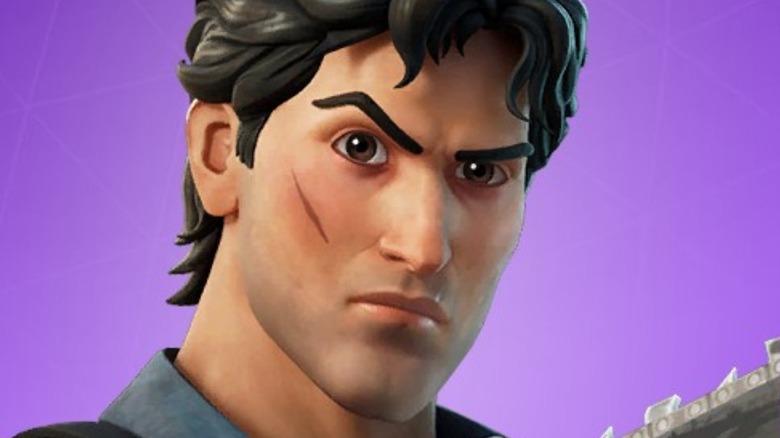 Epic Games
"Fortnite" isn't an overly complicated game, but there are a couple of ways that Epic Games has managed to keep it from growing stagnant over the years. The most important method is by constantly updating it with new skins, weapons, maps, and game modes so that players always have new stuff to do — but another way it's managed to keep players interested is by partnering with other IPs to bring players some truly amazing crossover content. "Fortnite" has featured characters from some of the most influential pop-culture franchises on the market, from "Star Wars" to Marvel, but it's also had a few crossovers that players might not expect. Most recently, Epic brought the "Evil Dead" franchise to "Fortnite" as part of its Fortnitemares 2022 celebration which is going on until the first of November.
Sam Raimi's iconic camp-horror film might be a little different from the kinds of franchises Epic usually partners with, but it fits in perfectly with the spooky vibe of the Halloween season. Now, the slayer of deadites, Ash Williams is coming to the game as part of the celebration and he is bringing both his iconic chainsaw and his boomstick. There are several crossover items that will be made available during the celebration. Here's what they are and how players can get them.
The Evil Dead cosmetics are to be sold as a set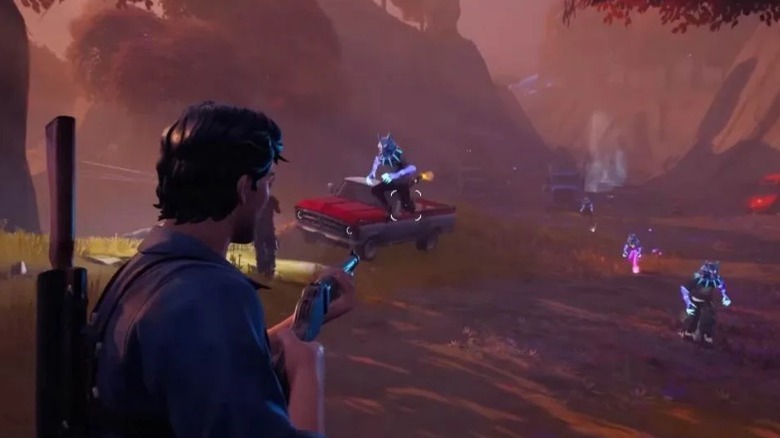 Epic Games
Unfortunately, players won't be able to find or unlock the "Evil Dead" crossover items for free in the game. Instead, they will be sold as part of a DLC package called the Knoby Cabin Nightmare Set (named for the cabin where the first two "Evil Dead" movies took place.) It contains five different cosmetics that will be available in the "Fortnite" store: the Ash Williams skin, Chainsaw Hand harvesting tool, It's a Trick! Emote, Hello, Henrietta loading screen, and the Necronomicon Ex-Mortis and Boomstick back blings.
However, fans will still have to wait a bit before they can actually get their hands on these new "Evil Dead" cosmetics. YouTuber Skin-TrackerV2 posted a video showcasing what these cosmetics will look like in the "Fortnite" store, with the description stating that the pack is "coming soon." Epic Games has not yet announced at what point this set will become available during the festival or how many V-Bucks it will cost when it finally does. But given that there are less than two weeks left in the Fortnitemares 2022 celebration, it seems unlikely that fans will have to wait too much longer.