Disney Dreamlight Valley: Do These Quests To Upgrade Your House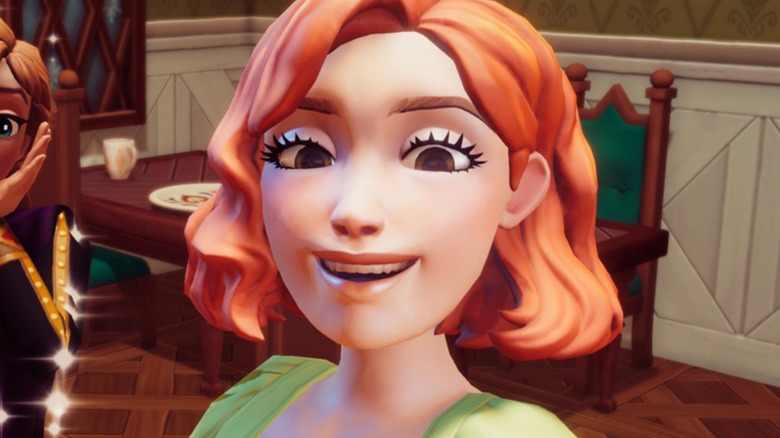 Disney / Gameloft
In "Disney Dreamlight Valley," you start small. Dilapidated house, sparse pieces of grimy furniture, hardly enough space to swing your magic fishing rod. Sound familiar, "Animal Crossing" fans? Looks like Gameloft and other developers like them are well aware that detailed house customization is exactly what fans want from an "Animal Crossing" clone, and are keen to deliver.
Of course, this comes with the classic side effect of having to sink stacks of cash into your real estate, deepening Scrooge McDuck's swimming pool of money with every transaction. Luckily "Star Coins" are solid, so he won't get too much enjoyment out of jumping in.
Before you can get started on your home decoration journey, however, there are a few tasks you'll have to complete around the valley. Until then, you'll just have to deal with the thin layer of dust covering your stovetop and suspiciously dirty kitchen counters. We all have to start somewhere, even in a Disney dreamland.
Buying veg and picking flowers
In order to unlock upgrades for your house, you'll need to do the following quests for Scrooge McDuck: "Making Cents of Things," "Scrooge McDuck's Grand Reopening," and "Dreamlight Valley Economy 101."
In "Making Cents of Things," McDuck will ask you to help kickstart the local economy by spending 1,000 "Star Coins" at Goofy's stall. If you don't have the funds, there are plenty of ways to make money early in the game, such as farming, fishing, and mining. If you've already unlocked Remy, this would be a good time to take advantage of his delicious, profitable recipes. McDuck won't be pleased with you giving all of your funds to a competitor, so the final step of this quest is to buy something from his own store.
Once that's done, you can start "Scrooge McDuck's Grand Reopening," where McDuck will task you with placing several signs advertising his store around the valley. Before you can get to work, however, you'll have to don a promotional t-shirt provided by McDuck himself. After you've suited up, collect 12 pieces of softwood (the piles of sticks on the ground throughout the valley) and use them to craft four store signs. Finally, it's time to pick some flowers. Pick two dandelions, which can be found in the "Plaza" area, and two purple rising penstemons, which grow in the "Peaceful Meadow." Use them to craft two "Dandelion and Rising Penstemon Pots" and place them near the shop to complete the quest.
Precious gems, and a magical elevator
In the final quest, "Dreamlight Valley Economy 101," you need to mine seven gems and sell them to Goofy. Gems can be found in any mining deposit, but are guaranteed when the ore has visible crystals sticking out. This doesn't mean, however, that you should avoid the plain deposits! They can still contain gems, so it's worth mining every ore regardless of whether it has visible gems or not.
Once these quests are all done, return to your home, where you will notice that an elevator has been installed near the door. Stand on the elevator and select "Check" to choose which improvements you would like to make. You can make your rooms bigger and add new rooms. You can also install additional floors, which will in turn unlock the ability to improve the exterior. Of course, this all comes at quite a hefty cost; Scrooge McDuck isn't running a charitable institution here!