Crash Bandicoot Wumpa League Early Footage Teases Interesting Change For The Series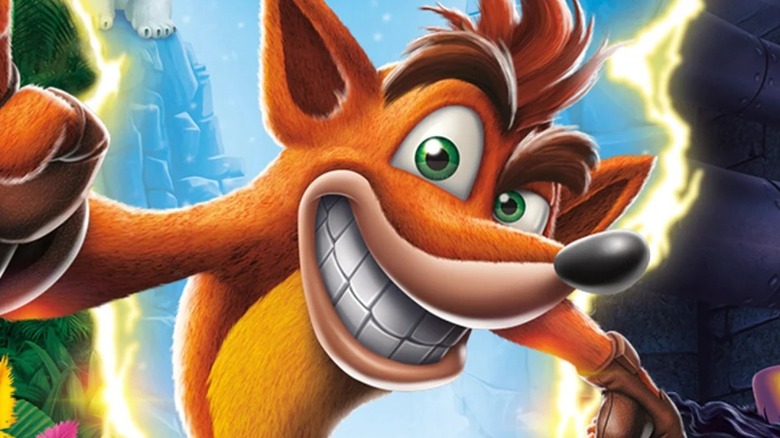 Activision
"Crash Bandicoot Wumpa League" is officially off the shelf. Activision originally teased the mysterious "Crash Bandicoot" multiplayer game back in November 2020 at The Game Awards. However, it was around this time that developer Toys for Bob was forced to put the project on hold. "Call of Duty's" success inspired Activision Blizzard to reallocate developers from Toys for Bob to work on " Warzone," and during the shift many of the staff members working on "Crash Bandicoot" quit the company. "Wumpa League" was believed to be part of a pile of unrealized projects until just recently. 
Liam Robertson, who has been tracking the development of "Crash Bandicoot Wumpa League" since it was announced, shared more details about its development and gameplay in his recent video titled "Crash Bandicoot Wumpa League Revealed: Investigation & Gameplay." He warns viewers that the details in his video aren't meant to be shared as pure facts, but to timestamp a place in history where the game was in development. Instead of your typical fighting game, shooter, or racer, this one puts players into a platforming team competition.
Here's what we know about "Crash Bandicoot Wumpa League."
How does Crash Bandicoot Wumpa League work
Activision
Robertson claims that "Wumpa League" was originally meant to be a multiplayer cooperative game where teams competed to collect the most Wumpa Fruit. Individual players can use different tools (the same for each player) to traverse the levels and challenge opponents. While you didn't need to fight others, you could push them into environmental obstacles like toxic waste or just KO them. 
An early promotional image shows two teams of characters, colored either blue or yellow to represent their respective teams. "Wumpa League" ran on the same engine as "Crash Bandicoot 4" and used similar mechanics, plus a glider to more easily traverse the levels. According to Robertson, the game was developed alongside "Crash 4" and was originally supposed to release after it. He was only able to show early builds of the game that featured blocky character models navigating platforms and whacking each other out of the way to get to Wumpa Fruit. Robertson juxtaposed the footage with "Crash 4" gameplay, which the game is expected to mirror.
At this point, "Crash Bandicoot" fans are just waiting for The Game Awards to hear more about "Wumpa League." It's rumored that Activision will reveal more about the game's true setup later next month.