Your Next Honda Could Include A PS5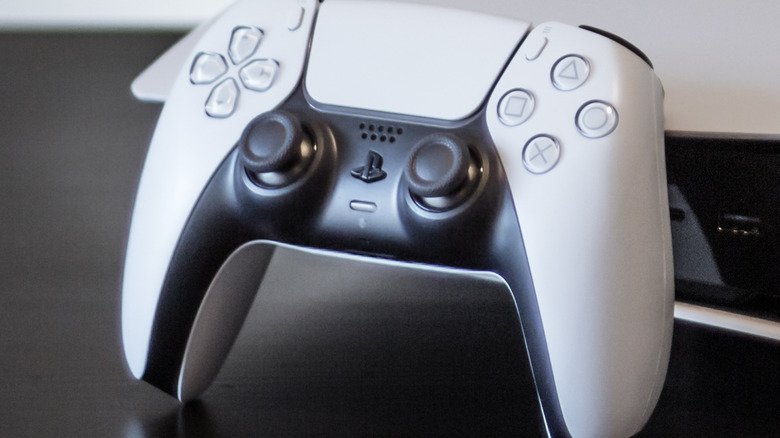 Mohsen Vaziri/Shutterstock
As more and more car companies delve into autonomous driving and release self-driving cars, some have questioned what drivers are supposed to do while the car navigates on its own. Different companies have taken various approaches to on-the-go entertainment, and a few have even gone as far as to include full-fledged gaming consoles with their models. Though some have had safety concerns about gaming in self-driving cars, that hasn't stopped car manufacturers from exploring the concept.
A few years ago Tesla's Model S and X self-driving cars were touted to have PS5-level capabilities, though so far most of the few games available through Tesla Gaming are old-school classics like "Sonic the Hedgehog."  It appears that Honda may turn Elon Musk's boast into reality via its new collaborative venture with Sony. 
In an interview with Financial Times, (via Eurogamer), Sony Honda Mobility heads revealed that it aims to release its first collaborative car by 2025. In the same interview, company president Izumi Kawanishi said it was "technologically possible" to include a PS5 in its upcoming car model. Kawanishi later said that including gaming as a key component of its upcoming car would make it stand out compared to other car manufacturers that can't match the power of the PS5.
Sony Honda Mobility plans to release its first collaborative car by 2025
Bloomberg/Getty Images
In the interview, CEO Yasuhide Mizuno said the company wants to launch its first car by 2025, and that Sony Honda Mobility aims to "develop a car as hardware that will cater to the entertainment and network we would like to offer." The concept of playing video games on the go isn't new — the Nintendo Game Boy is perfectly portable and came out more than 30 years ago in 1989, after all — but even today's handheld gaming devices like the Steam Deck and Nintendo Switch pale in comparison to what Honda and Sony have in the works. 
The PlayStation 5 is a modern, powerful system, and its inclusion would certainly blow the recently-revealed BMW and AirConsole lineup out of the water — a lineup that was compared to Jackbox Games in Forbes. Whether Tesla Gaming's in-car console can match up to Sony Honda Mobility's PS5 model has yet to be seen, though its work on getting Steam functionality in Tesla cars could yet be a game-changer.
"Sony has content, services and entertainment technologies that move people," company president Izumi Kawanishi said. "We are adapting these assets to mobility, and this is our strength against Tesla."