The New Dragon Age: Dreadwolf Cinematic Reminds Us Who The Villain Is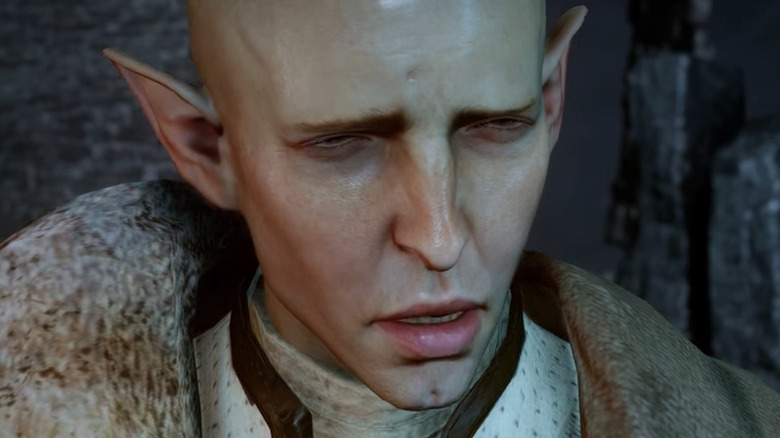 Electronic Arts
"Dragon Age" fans have been out in the cold for a long while. It's been eight years since Bioware released "Dragon Age: Inquisition," the third and most recent addition to the beloved action-roleplaying series. Despite "Dragon Age: Inquisition" receiving favorable reviews, it was unclear if a sequel would emerge. Allegedly, a fourth game was in development starting in 2015 but was canceled in 2017 by Bioware's parent company Electronic Arts. As a result, many of the veteran Dragon Age developers at Bioware moved on from the company.
However, to the surprise of many, earlier this year Bioware officially announced that "Dragon Age 4" was on its way, titled "Dragon Age: Dreadwolf." And following the announcement, fans clamored to learn more about the upcoming sequel. Although there's no word on who the protagonist of "Dragon Age: Dreadwolf" will be or what the story entails, Bioware has already given fans a clue at who the villain of the fourth game will be. Recently, Bioware reminded fans of one "Dragon Age" villain that is still at large who could function as the main antagonist in the fourth entry.
Solas The Dreadwolf
During the brief minute-long "Who is The Dread Wolf" trailer released on December 4, fans were reminded of the story of the elf Solas. This tale will sound familiar to anyone that has played "Dragon Age: Inquisition Trespasser" DLC, as it essentially recaps the events of its story. Narrated by Varric Tethras, the dwarven Inquisitor companion, the video discusses Solas's past, when he was previously known as the Dreadwolf, and refreshes audiences on the big reveal at the end of the "Trespasser" DLC.
Solas was "a thoughtful mage obsessed with dreams" that would go on to imprison the Elven Gods. But he wasn't just satisfied with that, "Now he wanted to tear down that veil and destroy the world," Tethras explained. Tethras then concluded with a call to action, stating, "We're the only ones that can stop him."
Although the end of "Trespasser" DLC sets up the events of "Dragon Age: Dreadwolf" and connects the fourth series, Bioware previously stated that players could enjoy the upcoming title even if they have not heard of Solas previously. And the game could be coming sooner than some think, as recently, "Dragon Age: Dreadwolf" hit a massive development milestone. In the meantime, fans can check out the "Dragon Age: Absolution" animated series launching on Netflix on December 9.