The Heartbreaking Tribute To Kevin Conroy's Batman We Didn't Expect At The Game Awards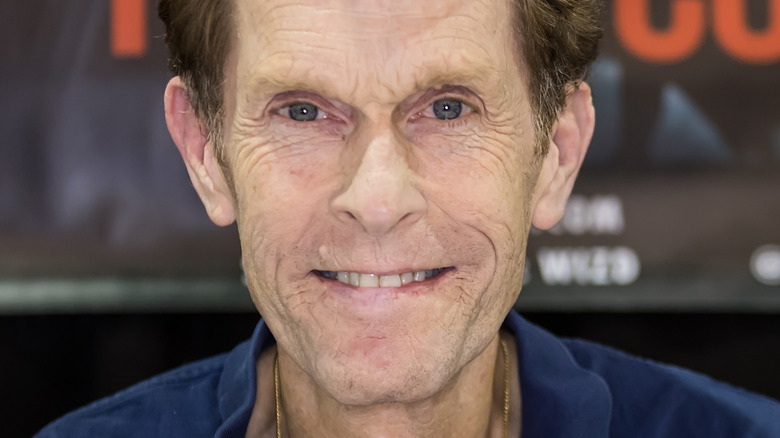 Gilbert Carrasquillo/Getty Images
The 2022 Game Awards honored the biggest and best games of the past year while also highlighting upcoming titles for fans. This year, a trailer for Rocksteady Studio's "Suicide Squad: Kill the Justice League" — in which the titular villains take on a team of brainwashed superheroes — both previewed the upcoming game and paid an unexpected and touching tribute to voice actor Kevin Conroy.
Advertisement
For many gamers and DC Comics fans, Kevin Conroy was the one true Batman. With a legacy through the decades with "Batman: The Animated Series" and the "Batman: Arkham" video games, Conroy's voice has become inseparable from the beloved comic book hero.
When the accomplished voice actor passed away this year, it was a tragic moment for fans and marked the end of an era. However, as revealed tonight, Conroy in fact reprised the voice of the Caped Crusader one last time for the upcoming "Suicide Squad" game. Here is what was shown during this year's Game Awards ceremony.
Suicide Squad trailer celebrates Batman and the legacy of Kevin Conroy
The new trailer features Harley Quinn and other members of the Suicide Squad breaking into a seemingly empty building after having captured The Flash. As the crew tries to secure their position and trade banter, something swoops out of the shadows and snatches a guard running away. Of course, it turns out to be a corrupted Batman, who then drops from the ceiling to stand ominously in front of the Squad.
Advertisement
The appearance of the Dark Knight elicits the appropriate level of fear from the supervillains, causing even the wisecracking Harley to gasp. On top of this, the trailer concludes with Batman declaring, "I am vengeance, I am the night, I am Batman!" As the trailer fades to black, the words "Thank you Kevin" appear on the screen, paying tribute to the man who brought the character to life for a generation of fans.
This tribute to Conroy earned cheers from the audience. The cheers only grew when Game Awards host Geoff Keighley thanked Conroy for his years as Batman and then confirmed that the actor recorded dialogue for "Suicide Squad" before his passing. The tribute surely moved more than a few viewers at home.
Advertisement
It's unclear how large of a role Conroy's Batman will play in the upcoming game, but fans will no doubt be happy to hear him in the role, even as this Batman breaks bad. "Suicide Squad: Kill the Justice League" launches May 26, 2023.