Crime Boss: Rockay City Release Date, Cast, And Gameplay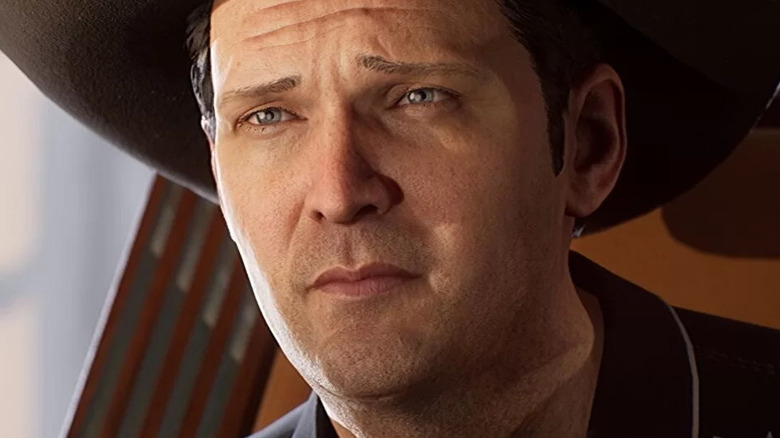 505 Games
There were a lot of new game announcements — ahem, global premieres — at the 2022 Game Awards, some less expected than others. Alongside high-profile sequels like "Hades 2," "Armored Core 6," "Final Fantasy 16," and "Death Stranding 2," there were plenty of fresh debuts. The latter list included "Crime Boss: Rockay City," a first-person organized crime shooter with a more than star-studded cast. The celebrity lineup is impressive and boasts plenty of well-known actors that harken back to the game's distinctly '90s setting.
But cameos aren't everything, and though the initial reactions to "Crime Boss: Rockay City" were rife with comparisons to the "Grand Theft Auto" series, it looks to differentiate itself from its cousin-in-crime in a number of ways. For one, "Crime Boss: Rockay City" puts turf wars and organized crime front and center using mechanics more similar to "Payday 2" than "Grand Theft Auto 5," and its celebrity cast adds serious star power to bring Rockay City to life. While its Game Awards segment didn't go into too much detail, it did reveal some key information regarding what to expect from the title.
Is there a release date for Crime Boss: Rockay City?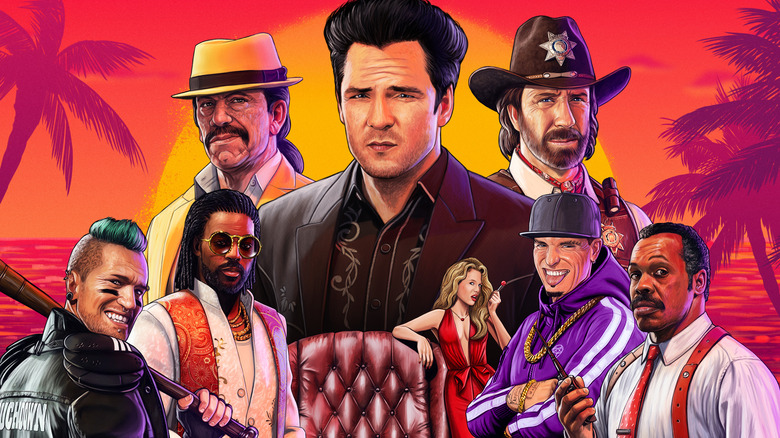 505 Games
Plenty of games announced during The Game Awards didn't have an official release date attached to them, but "Crime Boss: Rockay City" was one of the few that did — kind of. "Crime Boss: Rockay City" is scheduled to release on March 28, 2023. However, this is just for the initial Epic Games Store PC launch — console players will have to wait until a little bit further into 2023 to access it.
We don't know exactly when the Epic Games Store exclusivity will end, all that was revealed is that PlayStation 5 and Xbox Series X|S players would have to wait longer than PC players. This comes from publisher 505 Games, which also gave details on how to pre-order the title in its own announcement. Other Epic Games Store exclusive agreements have tended to last for months after launch, so don't expect "Crime Boss: Rockay City" to come to consoles until later in the year.
Who is in the cast of Crime Boss: Rockay City?
The star-studded "Crime Boss: Rockay City" lineup was revealed throughout the game's trailer at The Game Awards, and it's full of familiar faces. Action stars, famous singers, and '90s icons alike are all featured as main characters, and though the title isn't very close to release, 505 has shared exactly who each celebrity will portray:
Michael Madsen ("Reservoir Dogs," "Kill Bill") plays Travis Baker, the main player character
Chuck Norris plays the "righteous" and aptly-named Sherriff Norris
Danny Trejo ("Machete," "From Dusky Till Dawn") and Vanilla Ice play rival gang leaders The Dragon and Hielo, respectively
Danny Glover ("Lethal Weapon"), Kim Basinger ("L.A. Confidential"), Michael Rooker ("Guardians of the Galaxy"), and Damion Poitier ("The Flash") all play Baker's teammates and handlers
There may be other celebrities yet to be revealed, but so far it's a lineup that could easily be mirrored in a Quentin Tarantino movie — well, maybe not Chuck Norris. It's becoming a bit of a trend in the video game industry to get celebrities from other media involved — it's still hard to believe Chris Pratt is Mario now — and "Crime Boss: Rockay City" turns that celebrity-netting approach up to 11.
What is the gameplay like in Crime Boss: Rockay City?
According to the Epic Games listing, players step into the shoes of Travis Baker in "Crime Boss: Rockay City." Baker is "a man with his sights set on becoming the new King of Rockay City" after the former crime kingpin abdicates, so to speak. The publisher described it first as an organized crime game and then an FPS action, putting emphasis on the criminal aspect over it being a shooter. From gameplay shown during the teaser and other footage provided by 505 Games since, it looks like the heist system in "Crime Boss: Rockay City" is most inspired by titles like "Payday 2," which makes players carefully plan crimes ahead of time and coordinate activity with a squad.
The key phrase used in the teaser and description is "turf wars." As Baker aims to take over the criminal side of the Miami-like, '90s-inspired Rockay City, players will have to go up against rival gang leaders and the law to secure territory and advance their burgeoning criminal empire. The "Crime Boss: Rockay City" reveal was one of the more out-of-nowhere moments at The Game Awards 2022, and only time will tell if the cast of criminals and heist-oriented gameplay resonates with players.