God Of War's Christopher Judge Almost Didn't Take The Iconic Role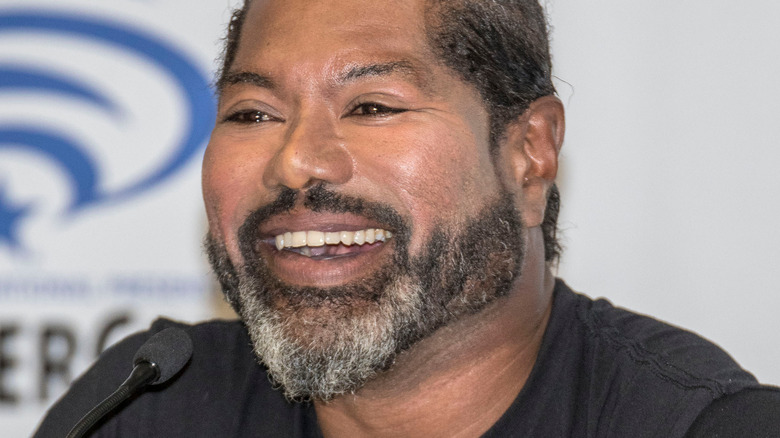 Eugene Powers/Shutterstock
Kratos has been an iconic character since the first "God of War" released back in 2005. Christopher Judge's performance as the titular character won over fans and critics and earned him the 2022 Game Award for Best Performance, but he wasn't always the God of War. Judge didn't originate the role of Kratos, but he did make the part his own. While there's more to Judge than just "God of War," the character will forever be a part of his legacy.
The part wasn't even Judge's in the beginning. Kratos was originally voiced by actor T.C. Carson, who told VladTV that it was his first big video game role. Carson played Kratos in earlier "God of War" games, but Judge later took on the role for practical reasons. Carson explained that in the early days, a separate actor was employed for mocap footage while he did the voice work. However, once the industry standard began changing — and actors more frequently did their own mocap — the team behind "God of War" wanted to go with a larger actor to play Kratos both in voice and body. Carson said that there were no hard feelings towards Judge, who was hired to play Kratos in the 2018 "God of War," which explored Norse mythology and a new side of the surly protagonist.
Given his success as Kratos and how much enthusiasm Judge has shown for the role, it may shock some fans to learn that Judge almost turned down the part. While it's hard to imagine the 2018 "God of War" or its sequel without Judge's deep voice threatening gods chastising Atreus, the celebrated actor actually had to be talked into taking the role. While he's clearly glad to have been convinced, it was far from a sure thing when he first read the script.
Judge didn't want to star in a video game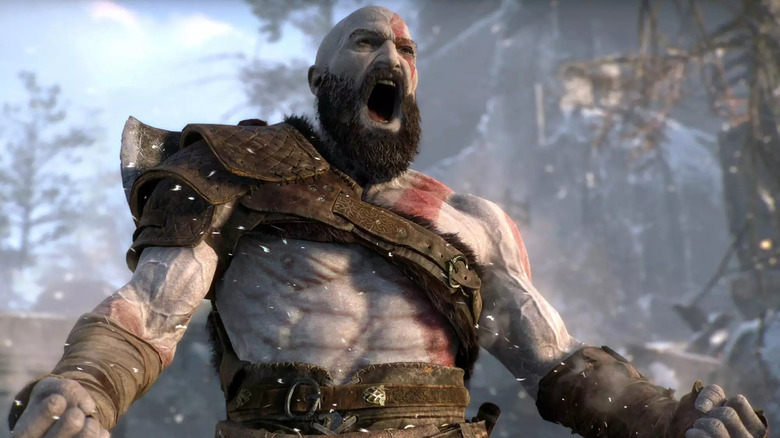 Sony Interactive Entertainment
A testament to the skill of the "God of War" writers, Judge thought the script was for a blockbuster movie when he first read it. Speaking to Variety at the 2018 Game Awards, Judge said that he didn't want to try for the part at first because he assumed it would go to a major film star. When his agent explained that it was for a video game, however, Judge remained hesitant, but for different reasons.
While he had done some voice acting in games before, Judge claimed that he didn't want to "[do] a video game." As he told Variety and later reiterated on the red carpet at the 2019 BAFTA Awards, he saw video game stories as filler between gameplay sections and not the sort of thing he wanted to commit to as an actor. After some cajoling from his agent, however, Judge agreed to meet with the "God of War" team.
This meeting reassured Judge that the "God of War" story would take center stage and feature interesting, fully developed characters. Based on this promise and the strength of the script, he said "yes" and became the voice of Kratos.
Judge almost didn't return for Ragnarök
After earning a nomination for his performance at the 2018 Game Awards, Judge went on to take home the award for Best Performance thanks to "God of War: Ragnarök." In his acceptance speech, which fans found heartwarming, Judge expressed humility, excitement, and gratitude to everyone that made the moment possible. He also made the shocking revelation that he almost hadn't returned for the game that won him the honor.
Judge told the story of how, upon hearing that "God of War" director Cory Barlog would be stepping down as director of the sequel, he made the decision to quit. However, Barlog encouraged him to stick around, personally vouching for Eric Williams as the new director. "Eric Williams better be a beast," Judge said in his speech. "Eric Williams and I are from such the same place, two different parts of the country, two different upbringings, but two from a very similar emotional place." In one of the most emotional moments of the night, Judge teared up as he spoke of the personal connection he had with Williams and how the two worked so well together. As with the first game, it took some convincing but Judge was clearly glad he chose to take the role. Based on the critical and fan reception, everyone else is glad too.
Christopher Judge had even more to say in his speech at The Game Awards, but his lengthy talk revealed that Judge not only sees the game as a work of art, but as a beautiful place of connection for the creative minds behind it.