Why Elden Ring Could Dominate The Gaming World Again In 2023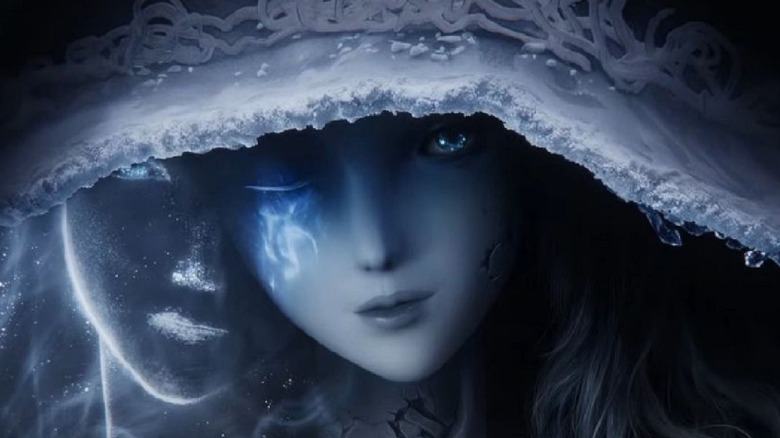 Bandai Namco
"Elden Ring" quickly became one of FromSoftware's most successful titles after launching in February 2022, and over its nearly year-long lifetime it's proven to have staying power. After months of being one of the highest rated game on Metacritic and setting new sales records for FromSoftware, "Elden Ring" was crowned Game of the Year at The Game Awards — but winning the award doesn't mean development will stop. "Elden Ring" is a rare example of a game that delivered on the hype.
Now, hype is building again, thanks to comments made by the game's director at the 2022 Game Awards ceremony. Having directed or co-directed almost many of the company's most successful titles, Hidetaka Miyazaki is a familiar face for FromSoftware fans. At the very end of the Game Awards, Miyazaki accepted the GOTY award and gave a speech, during which he said "we still have several more things we want to do" with "Elden Ring." 
Even after the launch of the "Elden Ring" Colosseum, fans have been dying to learn whether there will be any further DLC for the game. Miyazaki's comments seem to signal that FromSoftware indeed has huge plans heading into 2023.
FromSoftware still has plans for Elden Ring
After thanking everyone who worked on the game during his acceptance speech, Miyazaki talked about the future. He said he has made up his mind to create games even more interesting than "Elden Ring." He continued to say that it's not all over for the Game of the Year, though. "As for 'Elden Ring,' we still have several things we want to do, so getting this GOTY award really, really encourages us," Miyazaki said via an english translator. 
After wrapping up his speech, many focused on the interruption to The Game Awards when a prankster tried to nominate Bill Clinton for the award — but hardcore fans of "Elden Ring" focused on his comments, and what it could mean for the game in 2023.
"Several things" could mean, well, a lot of things, but the most obvious conclusion is oncoming DLC. There are plenty of fan theories as to where "Elden Ring" DLC could take players, like exploring new areas tied to Miquella and Godwyn, the Frenzied Flame, or even the Badlands, a place mentioned in the intro cinematic but seen nowhere in-game. Any one of these routes could make for an exciting expansion and could keep "Elden Ring" in the public eye well beyond the end of 2022.