Why The Witcher 2 Almost Didn't Happen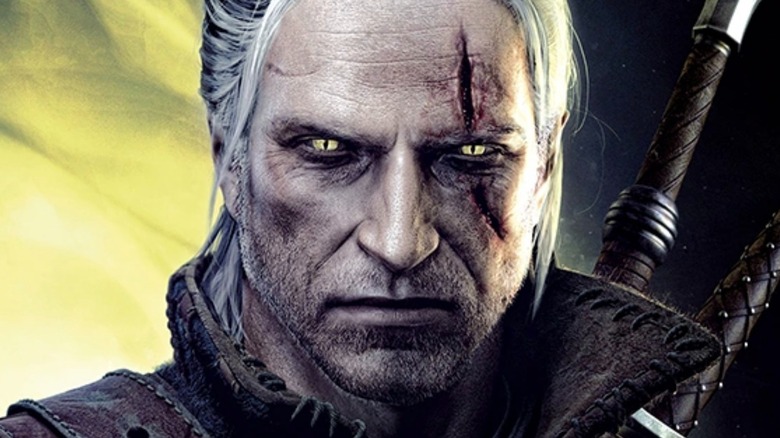 CD Projekt
The immense success of "The Witcher 3: Wild Hunt," a game that performed so well it won several awards before launch (per Digital Spy) and earned a next-gen update, did not come without years of struggle and poor luck preceding it. Before CD Projekt Red delivered its highest-grossing game to date at over 40 million lifetime sales (via Statista), the studio almost went under completely. Another game in "The Witcher" franchise pulled the team back from the brink against crushing odds.
Advertisement
The first game in the series achieved enough popularity to earn over 1 million sales after 12 months (per GamesIndustry.biz), propelling its sequel. But CD Projekt Red's breakout story truly began with "The Witcher 2: Assassins of Kings." Critics like Rock Paper Shotgun touted the sequel for its major improvements to combat, attention to detail, and making the consequences of Geralt's actions matter. It took less than a year from launch for "The Witcher 2" to win 50 awards (via CD Projekt Red). As reported by Complex, it even attracted the attention of former President Barack Obama. On the other hand, the success of "The Witcher 2" belied a development process fraught with debt, layoffs, and partnership frustrations (per Eurogamer). Any number of these factors might have spelled the end for "The Witcher 2" and perhaps "The Witcher 3."
Advertisement
Economic crisis and mismatched partners
Before "The Witcher" remake fans really wanted, Atari approached CD Projekt Red about creating a console port of the original game called "The Witcher: Rise of the White Wolf" (per GamesIndustry.biz). What appeared like a sound idea at face value became a financial nightmare for CD Projekt Red and the development of "The Witcher 2."
Advertisement
Then-Senior Producer Tomasz Gop summed up the main problem (via Destructoid): offshoring the game's production to another studio. Founded in 1999, French studio Widescreen Games produced titles mainly for Windows and PlayStation 2 that met with negative to middling reviews (per MobyGames). With "The White Wolf," Widescreen Games proved a liability to CD Projekt Red before long (via Eurogamer), inhaling money and yet making few development gains.
Troubles at CD Projekt Red ran deeper still. The studio had already begun building "The Witcher 2" and "The Witcher 3" when it accepted Atari's offer. Running these several projects simultaneously proved too much for CD Projekt Red, which had bled a lot of money before the Atari deal and the advent of the Great Recession. By April 2009, these compounding financial pressures forced the studio and Atari to scrap "The White Wolf" (per VG247). CD Projekt Red also laid off the title's development team and let go of two dozen other employees.
Advertisement
The company had reached an all-time low for the development of "The Witcher 2: Assassins of Kings," making it all the more miraculous it released at all, let alone on a new engine and in record time.