Pokémon Confirms What We All Suspected About Ash's Goodbye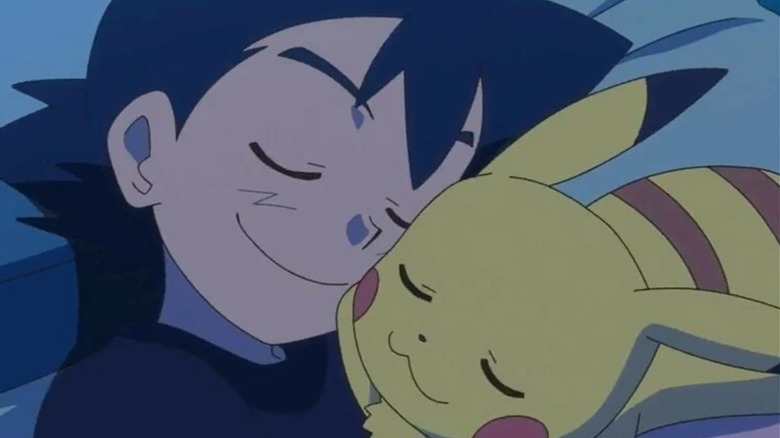 The Pokémon Company
The "Pokémon" anime has been around for a quarter of a century, but it feels like just yesterday that Ash Ketchum set out from Pallet Town in his quest to become the greatest Pokémon trainer of all time. Ash made his debut before the turn of the millennium, and the eternally ten-year-old trainer has spent the last 25 years becoming a better trainer throughout countless series, continents, and party compositions — always with Pikachu at his side. Finally, in November this year, he reached that goal — but after Ash became the World Champion, fans wondered what could be left for him, what his future might look like, and whether he would continue to be in the series at all. 
Advertisement
As it turns out, according to a reveal on December 16, 2022 from the official Pokémon YouTube channel, fans who thought he would soon bow out of the show ended up being right. In 2023, Ash Ketchum and Pikachu — one of the most iconic duos in gaming history — will officially say goodbye. Next year will bring a multi-part conclusion to the 25th iteration of the series as the "Pokémon" anime moves on give the spotlight to new characters and new horizons. Here's what we know about Ash's farewell.
The final 11 episodes with Ash Ketchum and Pikachu are coming
In an official reveal commercial, which came after much fan speculation that Ash was on the way out, the announcement begins with a quick retrospective on Ash and Pikachu's journey. After clips showing fan-favorite characters like Gary, Misty, Brock, and other snippets, it's revealed that "the final chapter in Ash and Pikachu's story" will be eleven episodes long and will begin airing in Japan on January 13, 2023. After revealing the upcoming conclusion to the "Pokémon Ultimate Journeys" series, the trailer goes on to show a very quick sneak peek at the two main characters of the upcoming "Pokémon" series based in the "Pokémon Scarlet" and "Violet" world. 
Advertisement
Though he won't be the main character of the anime anymore, that doesn't mean it's the end of Ash Ketchum's journey — he's only ten years old, after all — and Pikachu is far too recognizable as a mascot to ever be totally absent from the series. Maybe fans will see them again someday. But after spending 25 years as the face of the franchise, appearing in 23 movies and 25 different "Pokémon" anime series (and not celebrating an eleventh birthday that whole time) maybe Ash and Pikachu need a well-deserved break from the spotlight.