Genshin Impact Just Had A Big Character Leak
After the award-winning "Genshin Impact" exploded into the scene in 2020, the game has received a healthy stream of new content to keep players coming back. For example, version 3.3, "All Senses Clear, All Existence Void," released on December 7, 2022, introduced new characters, weapons, artifacts, quests, and more. 
Although the current event will end on January 18, gamers already know what's in store for the next updates thanks to the recent dev blog. However, aside from official streams, there is another way to get news on upcoming "Genshin Impact" content. Leaks have been a staple way to learn about upcoming content, with an entire subreddit dedicated to it. For example, the entire Fontaine lineup was leaked on Twitter just a few days ago. And thanks to a recent alleged leak, players now know about a significant character coming to "Genshin Impact" post 3.4. And gamers are already fawning over this new character.
Cloud Retainer's human form leaked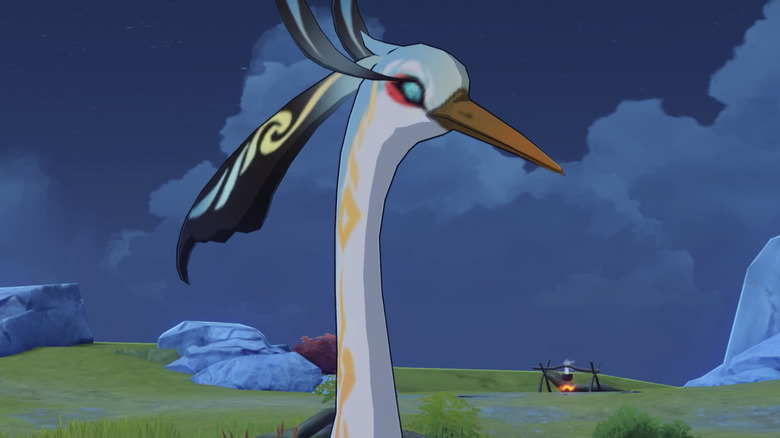 miHoYo
Recently on a "Genshin Impact" Discord server, then posted to Reddit, trusted leaker Therallo posted what appears to be the human form of Cloud Retainer. Cloud Retainer is a quest-exclusive Adeptus NPC found on top of Mt. Aocang, Liyue. This Adeptus takes the form of a white crane with blue feathers and gold markings. And this design seems to carry over to their human form, as she can be seen wearing blue attire and a gold hairpiece. Interestingly, the character is also shown with or without glasses.
Shortly after the leak, more information popped up about the Cloud Retainer, as a user gave a better description of the human form. But they also clarified that the character's release date is unknown. Although they wrote, "it may be the next year Lantern Rite." If true, that means players will have to wait at least a year to have a chance to put this character on their roster.
Still, Gamers loved the look of the human Cloud Retainer, with many quick to express how gorgeous they think the artwork looks. And many noted that they could not wait to see Cloud Retainer as a playable character. Players also hoped they could toggle the character's glasses like in the artwork. And who knows — this feature may be available once the game finally launches on the Nintendo Switch.