Devil May Cry Almost Didn't Happen
Capcom found more than another action game in "Devil May Cry" when the original dazzled fans in 2001 — it found the catalyst of a new style of action games. The father of the aptly-named stylish action subgenre, "Devil May Cry" has passed major milestones over its run, clocking 16 million sales worldwide (per Capcom) and even getting a Netflix animated series. Fans have clamored for  "Devil May Cry 6" for a few years now, making for a kind of irony considering the original "DMC" almost didn't happen. Stylish action, the charismatic Dante, and other beloved characters nearly ceased to exist the way fans know them.
Advertisement
Development stumbles with "DMC" games are nothing new. The mind behind each game after the first one, "DMC" Director Hideaki Itsuno, spoke to Famitsu (per Google Translate) about not having enough time to flesh out the second game the way he desired. A more recent interview also shed light on the challenge of transitioning the series from the PlayStation 2 to PS3 (via Bokeh Game Studio). Before any of these setbacks, however, the team behind the first "DMC" nearly ended up as a "Resident Evil" game. Capcom tapped game designer Hideki Kamiya to spearhead this project before it became the first "Devil May Cry."
It was nearly Resident Evil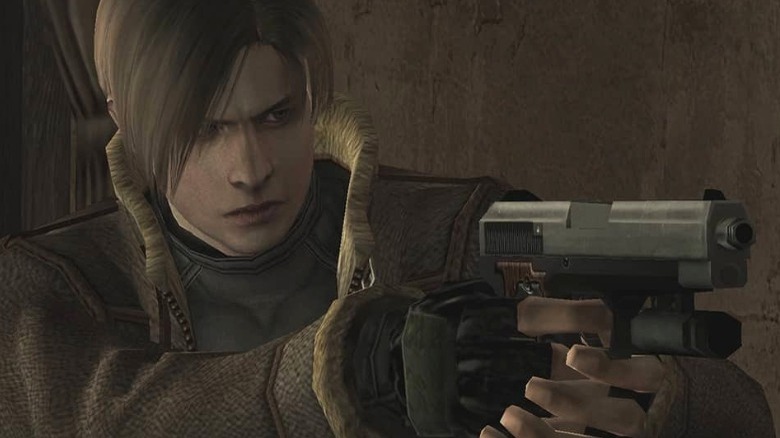 Capcom
"Resident Evil 2" garnered hoards of praise upon release in 1998, selling close to 5 million copies and easily warranting a sequel (per Capcom). It nearly got it in the original "Devil May Cry." GameSpot put together a video on the history of the "DMC" series, beginning with Hideki Kamiya's work on the sequel to "RE 2." While bits and pieces of this game eventually morphed into the universally acclaimed "Resident Evil 4," the rest ended up straying too far from the survival horror formula Capcom wanted.
Advertisement
The survival aspect of the game had shifted to a more flashy, action-oriented one. Capcom saw this shift and decided to let Kamiya turn his work into a completely new game: "Devil May Cry." Demons usurped monsters, Hong Kong action movies inspired a combo-based combat system, and the rest mapped out how fans know it. Most importantly, the protagonist intended for this "Resident Evil" game transformed from a police officer named Tony who wields mysterious powers (per "Devil May Cry Graphic Arts") into the demon hunter fans know and love, Dante. As many have noted (via Gamereactor), Dante and his antagonistic brother Virgil borrowed their names from the two main characters in Dante Alighieri's "Divine Comedy."
Advertisement
Fittingly, Hideki Kamiya moved on from the "Devil May Cry" series to create the "Bayonetta" series, which contains "Devil May Cry" references.