Why DC Comics Fans Think Injustice 3 Is Finally On Its Way
Warner Bros. Interactive Entertainment
The 2D fighter series, "Injustice," pits some of the strongest DC characters against each other. "Injustice" exists in a universe where Superman is an evil overlord corrupted by power. And it is up to Batman and members of the Justice League from other worlds to band together and stop the Man of Steel. Not only do DC characters from other worlds join the fight against Superman on Earth-22, but the series also features characters from other franchises, such as Raiden from "Mortal Kombat," as guest characters. 
It's been some time since a new fighter joined "Injustice 2," as the last DLC for the sequel launched in 2018, and fans of the series have been in the dark about the fate of the series ever since. Some theorized that because the future of developers' NetherRealm and WB Games was up in the air, a third entry in the series was taking a long while to develop. Still, there were reports in the past that WB Games was hiring people for the third entry, so some predicted it was in active development (via WCCF Tech). However, gamers and comic book fans may have finally gotten a clue that an announcement for "Injustice 3" is close on the horizon.
A new Injustice comic has been announced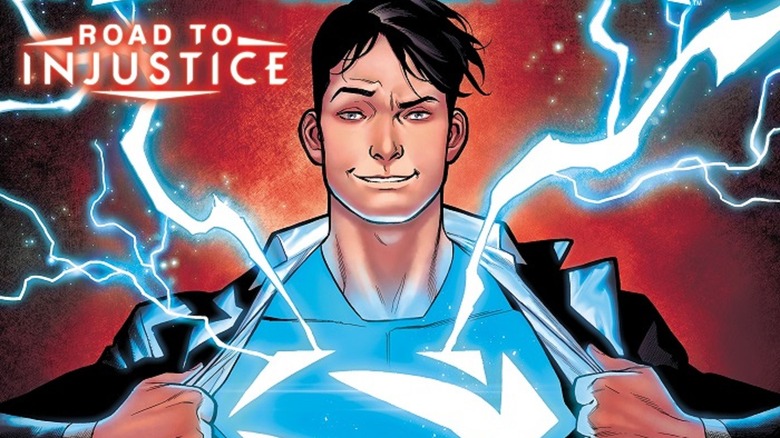 DC Comics
Recently, DC announced that Tom Taylor, writer of the original "Injustice: Gods Among Us" and "Injustice 2" comic series — is diving back into the world of "Injustice" once again in March as part of the publisher's new "Dawn of DC" initiative. Continuing the story of Superman's son, the new series "Adventures of Superman: Jon Kent" will put the protagonist on the "Road to Injustice." According to an interview with Taylor that accompanied the announcement, the crossover will take place around the time of the second game, with Jon interacting with the characters from that world. And it's a perfect time to revisit this part of the DC multiverse, as 2023 marks the 10th Anniversary of the first "Injustice" game.
Of course, fans quickly began speculating that an "Injustice 3" announcement from NetherRealm was just around the corner, especially with such a high profile crossover on the way. The "Injustice 2" comic series concluded in 2018, around the same time the DLC releases for the game stopped. Fans may finally get to see Jon Kent battling against a corrupt version of his dad on the page, but being able to control the outcome of the fight would be even cooler. Fans of "Injustice" will want to keep an eye out for this new series.