Dr Disrespect Made A Surprising Public Appearance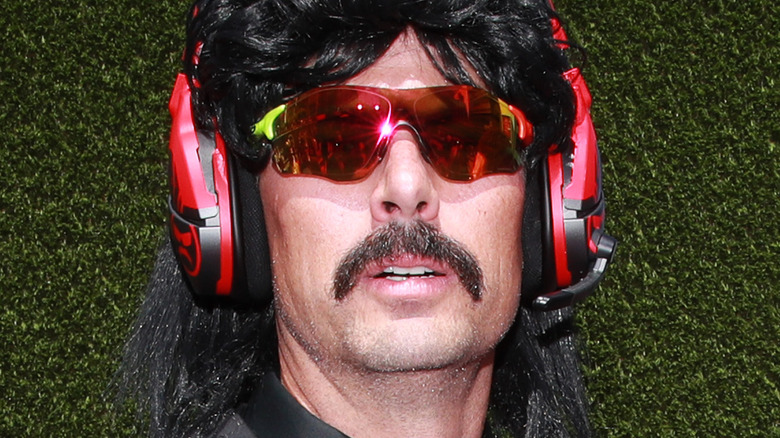 Rich Fury/Getty Images
Sports fans were caught off-guard when Dr Disrespect made an unexpected public appearance at a major event this past weekend.
To some Dr Disrespect viewers, it might feel like the "Call of Duty" streamer has been showing up everywhere lately. In the gaming space, the Doc has formed a game development studio that's working to create its very own battle royale shooter. In the culinary space, the creator has launched his very own bourbon. Disrespect has even broken into the television space, signing a deal for a Dr Disrespect TV show. Still, few have anticipated his latest push into the professional sports space.
Advertisement
That's why Disrespect's special guest appearance during a recent game from the NFL Wild Card round playoffs shocked many viewers. The personality wasn't just there to spectate as a fan, nor to get rejected by a player, like he did during a basketball game last year. He actually featured in a prominent role during the match and even worked to help out one of the teams in an unexpected way. 
Dr Disrespect hyped up fans of the San Francisco 49ers
Fans of the San Francisco 49ers may have been rather confused when, prior to the start of the team's Wild Card weekend playoff game against the Seattle Seahawks (via ESPN), none other than Dr Disrespect took the field. In a clip shared by the team's official Twitter account, Disrespect — sporting his trademark sunglasses and wig along with a red NFL jersey — hyped up the "49ers faithful," repeatedly telling them to "make some noise" before he sounded a large foghorn.
Advertisement
Sound the horn, @DrDisrespect #SEAvsSF x #NFLPlayoffs pic.twitter.com/2tG6QXH4k6

— San Francisco 49ers (@49ers) January 14, 2023
Considering the undeniably limited overlap between fans of Dr Disrespect and faithful viewers of the NFL, the streamer may seem to some like a strange pick for a hype-man. However, it's actually not the first time the personality has crossed over into the world of football. For instance, Dr Disrespect officially announced an NFL draft pick for the 49ers in early 2022. Since his appearance during this weekend's game, the streamer has taken the time to express his appreciation for being involved, along with a tease that it may not be the last time he shows up during this NFL season. 
Advertisement
"Firm handshakes @49ers for letting us Kick off Wild Card weekend," Dr Disrespect tweeted. "1-0. Dallas up next."