Pokemon Was Hidden In Plain Sight At The Super Bowl
Between an all-new "Super Mario Bros. Movie" trailer and a commercial cameo from MrBeast, the 2023 Super Bowl had plenty of surprises in store for gamers. Even after the event, fans are still finding surprises, including an astonishing "Pokémon" appearance that no one expected.
Advertisement
During a recent appearance on "Jimmy Kimmel Live," Kansas City Chiefs quarterback Patrick Mahomes revealed that "Pokémon" played a part in one of the more interesting plays from the 2023 Super Bowl. 
The play started out with some of the players jumping together in a circle before breaking off and throwing the ball, which was meant to throw their opponents off the scent and make them think someone other than Wylie would be the receiver. Mahomes told Kimmel the play was called "Gotta Catch 'Em All" in a "Pikachu Formation." He explained that Andrew Wylie, the player meant to receive the ball, is a major "Pokémon" fan, and so the play was named after his favorite hobby.
Mahomes explained that the team had perfected that play and was hoping to distract the Eagles with it. However, Pikachu didn't help them out in the Super Bowl battle, and the play wasn't successful.
Advertisement
The Chiefs still won, despite the failure of their Pikachu-inspired maneuver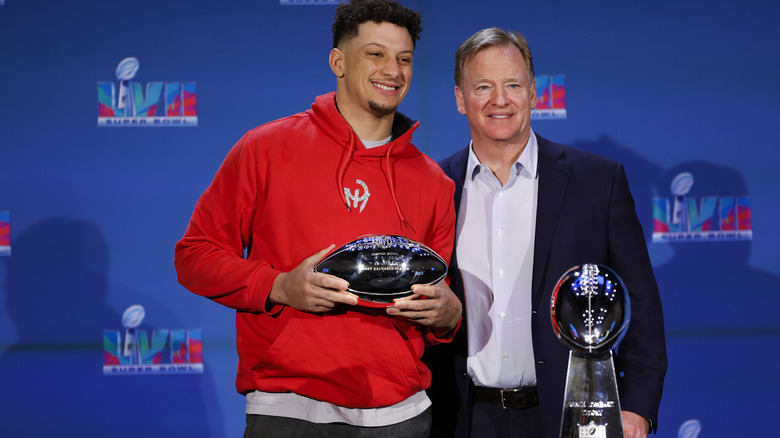 Carmen Mandato/Getty Images
Even though the Pokémon-inspired play was unsuccessful, the team managed to squeak out a victory at the end of the game, defeating the Eagles by just 3 points. In doing so, the Kansas City Chiefs disproved EA's much-publicized "Madden" simulation of this year's Super Bowl, which predicted that the Chiefs would lose. 
Advertisement
Sarah Natochenny, the long-time voice actor of the "Pokémon" animated series' protagonist Ash Ketchum, was clearly impressed by the effort and the reference to her beloved series. The actress shared the clip of Mahomes discussing the play and pointed out in her tweet that "'Pokémon' inspires winners." She was absolutely right, as Patrick Mahomes was named the Super Bowl MVP for the second time in his career following 2023's game.
Shoutout to the @Chiefs @PatrickMahomes & @RealAndrewWylie for their epic play, "Pikachu Formation / Gotta Catch 'Em All."

Pokémon inspires winners. ❤️ #voiceofash #KansasCityChiefs #SuperBowl @jimmykimmel pic.twitter.com/YwnVdKL8xb

— Sarah Natochenny (@sarahnatochenny) February 14, 2023
Advertisement
Surprisingly enough, video games loomed large over this year's Super Bowl. In addition to the aforementioned commercials, fans tuning into the big game also felt reminded of "Super Smash Bros." while watching Rihanna's halftime show. While Pikachu didn't make an appearance during the set, the electric mouse's presence was surely felt!