Netflix Creating A New Type Of Show With Pokémon Concierge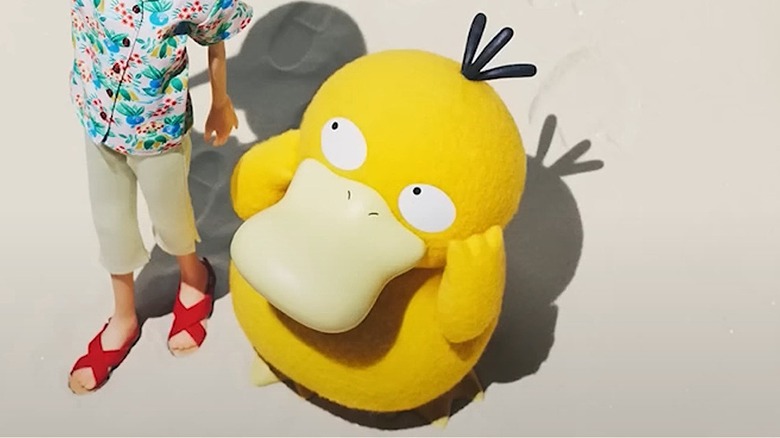 The Pokemon Company/Netflix
As the Ash Ketchum arc for the "Pokémon" series reaches its conclusion, new stories are set to be told in the mainstream anime and its spinoffs. For the most part, all "Pokémon" media has been based on Ash's journey, but with the iconic 10-year-old trainer's departure, The Pokémon Company is looking for new ways to present its beloved world. After Ash's departure from the main show, the series will follow a completely new cast of characters. However, things look a lot different for another freshly revealed upcoming TV series. 
Advertisement
Announced during the Pokémon Presents stream to commemorate Pokémon Day on Feb 27, 2023, "Pokémon Concierge" is a new collaboration between The Pokémon Company, Dwarf Studio, and Netflix. As the title might imply, it is set to take place on a Pokémon Resort — that is, a resort for Pokémon, not a resort merely themed around Pokémon. The teaser released for the show gives sparing details, but what has been revealed seems to be an exciting step for the longstanding franchise into totally new territory. 
The most groundbreaking thing about "Pokémon Concierge" is how it's animated: "Pokémon Concierge" will be the first official stop-motion "Pokémon" adaptation ever. Dwarf Studio is well known in Japan for adorable stop-motion animations, and is perhaps most well known for Netflix's "Rilakkuma and Kaoru" in the West — needless to say, it's going to be quite the treat to see its distinct style brought to such a high-profile franchise. Here's what we know about "Pokémon Concierge."
Advertisement
A resort for stop-motion Pokemon and the Concierge who's happy when they're happy
The teaser was prefaced by comments from Netflix's VP of Content in the Asian Pacific Region, Minyoung Kim. Kim said Netflix is "passionate about finding and developing original stories from Japan... and we're dedicated to adapting fan-favorite stories and manga into extraordinary shows." Kim goes on to say that the show will have an "entirely new storyline," one that is likely to be divorced from the mainline story entirely. In the teaser, fans see a lone Psyduck wander onto a beach, look up at the viewer, and hold its head in confusion as it stares off into the distance... and that's about it, aside from the title slide and a peek at the main character, Haru.
Advertisement
There is very little known about the show right now aside from its producer, Netflix, as well as the animation studio tackling it, Japan's own Dwarf Studio. According to the teaser, "Pokémon Concierge" will be a Netflix exclusive, but as of yet it does not have a release date. We don't know the cast, director, or really any other specifics, in fact, but this brief teaser has already captivated the "Pokémon" community. One Reddit user called it "Coraline: Pokémon Edition," a reference to Henry Selick's beloved animated classic, while at least a few fans humorously implied that it was the most interesting part of the Pokémon Presents stream by a wide margin.
yeah concierge aside, that direct has me pic.twitter.com/Sn6G6IeUB2

— MEZA 🏳️‍⚧️ (@MezaMunn) February 27, 2023
Advertisement
High praise, considering the stream finally gave fans a release window for "Pokemon Sleep."