Playstation Finally Made It Easier To Update Your PS5 Controller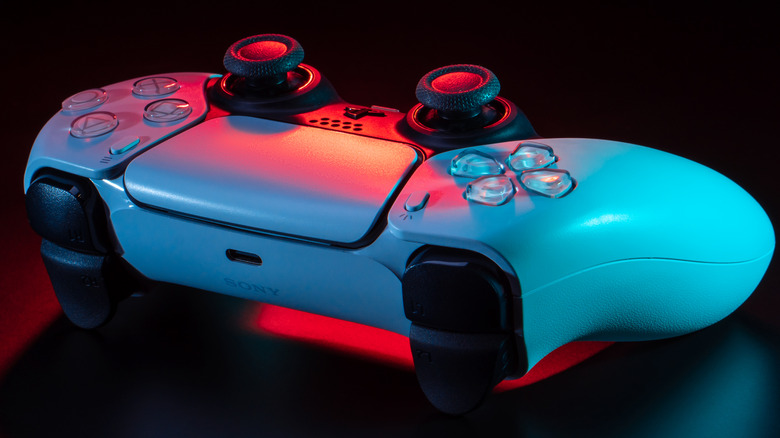 SolidMaks/Shutterstock
There's no shortage of gamers who will argue that the PS5's DualSense controller might be the best gamepad ever, but that doesn't mean the critically acclaimed controller isn't without flaws. For instance, it's been impossible to wirelessly update the controller since launch. Thankfully, that's all changing.
There are a few issues with the DualSense's hardware and software, which have been pointed out by fans over the last couple of years. Although some of the DualSense's shortcomings have been remedied by PlayStation with the release of the upgraded DualSense Edge, not everyone is willing to shell out the big bucks to snag one for themselves.
Thankfully, PlayStation has not forgotten about those gamers still rocking the original PS5 DualSense controller. On top of updating the PS5's software to implement newer features, such as Discord Voice, PlayStation also periodically rolls out software updates for the DualSense. The most recent DualSense update has brought a welcome fix to one of the device's quirks.
Gamers can now update the DualSense wirelessly
Thanks to the newest software update for the PS5, gamers can now update the DualSense controller wirelessly. Yes, this means gamers no longer have to plug the device into the console to initiate an update. However, PlayStation still recommends plugging the DualSense in if gamers encounter any connectivity issues.
This is a big leap for PlayStation, as ever since it switched to wireless controllers back with the PS3, gamers have needed to update their controller's firmware through a wired connection. Allowing gamers to update their controller via a wireless connection is something Xbox has been doing for some time, so it was only a matter of time before PlayStation caught up.
Whether wired or wireless, PlayStation controller updates are a must. These updates can often improve the controller's accuracy and stability, not to mention squash some pesky bugs. DualSense updates are often released alongside major PS5 updates, so they can be hard to miss. A popup typically appears to notify the gamer that a new update is available, but those who snooze the notification may have trouble finding where to install the firmware. 
To install the latest DualSense firmware updates, gamers must head to the Settings menu and select "Accessories." After that, the user must select "Controllers," then finally, "Wireless Controller Device Software." Once the setup is initiated, gamers can simply follow along with the on-screen prompts — which can all be selected wirelessly from here on out!