Five Nights At Freddy's Official First Look Reveals The Movie's Release Date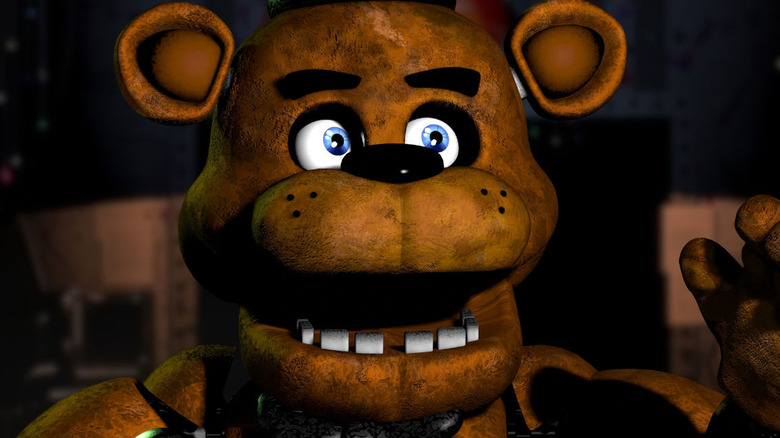 ScottGames
Film adaptations of video games have been around for decades, but sub-genre has really exploded in the last few years. Successful shows like "The Witcher" and "The Last of Us," as well as movies like "Sonic the Hedgehog" and "The Super Mario Bros. Movie," prove that the gaming industry's most iconic properties can work in non-interactive formats. Currently, another one of gaming's most well-known franchises is being adapted as a movie: "Five Nights at Freddy's."
Advertisement
The "Five Nights at Freddy's" movie was written in conjunction with original creator Scott Cawthon and is being produced by Blumhouse, the horror-centric film studio responsible for "Get Out" and "The Invisible Man." It's been in the works for years, but despite slow trickles of information over the years, fans still didn't know when it would come out — until now. As revealed in a post from Blumhouse mastermind Jason Blum, "Five Nights at Freddy's" is set to premiere on October 27, 2023. 
As promised:#FNAF FANS: You asked and we delivered. #FNAFMovie is coming this Halloween on October 27.  2023!!!!!

205 days until the party.

And that is the BIG NEWS

— Jason Blum (@jason_blum) April 6, 2023
Advertisement
It will be released both in theaters and on the NBC-owned streaming service Peacock at the same time, so fans can watch it at home if they can't get out to the movies. A late October release date is always perfect for horror movies, but it just so happens to be coming out on the same day as "Saw X," which could end up being its main competitor. Whatever happens, a first look at the movie seems to hint that it's going to be a treat for long-time fans and newcomers to the franchise alike.
The FNAF movie looks surprisingly faithful and has a great cast
lev radin/Shutterstock
Though fans don't know too much about the project, in the first official image posted April 5, 2023, we got a look at the style that the "Five Night's At Freddy's" film will go for, as well as some further details surrounding the production.
Advertisement
The image shows the gritty, vibrant-yet-run-down Freddy Fazbear's Pizza from outside, with two figures looking in at its closed entrance — a boy, and what appears to be Freddy himself. "The film follows a troubled security guard as he begins working at Freddy Fazbear's Pizza," Blumhouse's post reads. "While spending his first night on the job, he realizes the night shift at Freddy's won't be so easy to make it through." Though this image is probably not related to the guard's first night directly, the film will follow a story similar to that of the games, and hopefully will pull ideas from its far-reaching lore.
As previously announced, the film will star "The Hunger Games" actor Josh Hutcherson as the guard, Mike Schmidt. Matthew Lillard, of "Scream" and "Scooby-Doo" fame, will play the main antagonist of the series, William Afton. Other names in the cast include Mary Stuart Masterson and Piper Rubio. Still no word on a Markiplier cameo, but now fans have their first proper idea of what the "Five Nights at Freddy's" movie will look like once it releases October 27, 2023.
Advertisement