Kai Cenat's Latest Ban Has Fans Fed Up With Twitch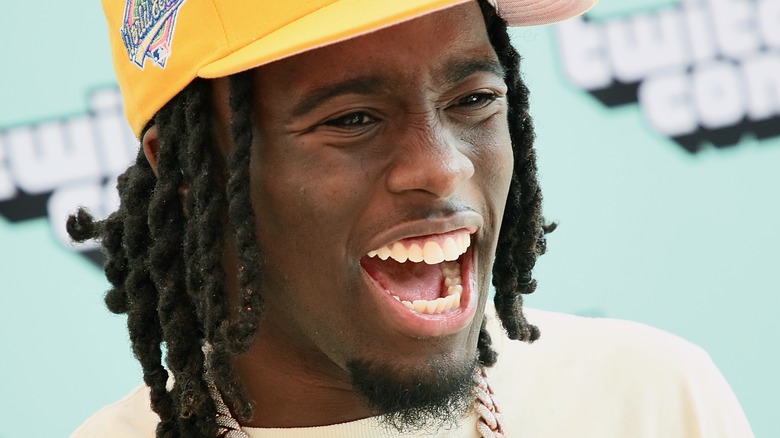 Robin L Marshall/Getty Images
Winner of the 2023 Streamer Awards, Kai Cenat, was just banned from Twitch. This comes less than two months after he broke Ninja and Ludwig's records for the most subscriptions on the platform. He announced the ban on Twitter, where he simply posted the word "banned" in all caps with no further explanation or indication as to how long the ban would last. Several of Cenat's fans and fellow streamers commented on the post to express their bewilderment, including the popular "World of Warcraft" streamer Asmongold.
The reason for Twitch's decision to punish one of its most popular streamers has not been officially announced by the platform or the streamer himself, but Dexerto reported  an inside source alleged it was due to "repeated explicit simulated activity in 'GTA.'" If true, this would be a violation of Twitch's community guidelines which clearly state that sexually suggestive content is prohibited. Others have theorized that it might be due to a stream a few days prior in which Cenat crashed a motorcycle into his own stream setup.
Kai Cenat crashes a motorcycle into his Setup😭💀 pic.twitter.com/S0B1Qb3UBK

— Kai Mafia Updates🗽💫 (@Kaimafiaupdates) April 15, 2023
Either way, several of Cenat's fans seem outraged by the ban. Fans have long been frustrated by Twitch's shady lack of communication and support for its community and many of them have even gone so far as to suggest that the streamer shifts platforms – something that Cenat has already been considering.
Kai Cenat's followers want him to move to Kick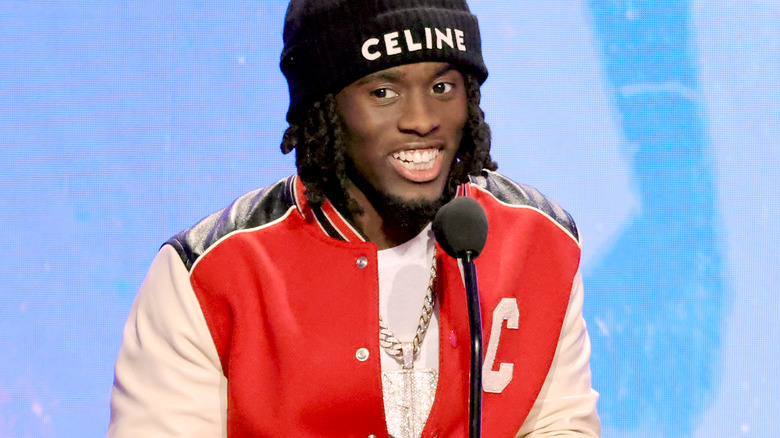 Amy Sussman/Getty Images
Cenat recently went live on a stream where he held up the commemorative sneakers that were gifted to him by Twitch following his February subathon and played out a sock puppet theater-style debate between one of the Twitch sneakers, and a green Nike sneaker that was clearly meant to represent the platform's biggest competition right now: Kick. The premise was that both platforms wanted him and were debating over what it would take to retain him as one of their creators.
It seems that many of his fans believe that this recent Twitch ban was the incentive Cenat needed in order to make the switch. Famous "Minecraft" streamer Dream replied to Cenat's Twitter post with a screenshot of a thumbnail that says "How To Stream on Kick," while Kick co-owner and fellow content creator Trainwreck commented with a picture of himself, holding out his hand as if beckoning Cenat to his platform. The official Twitter accounts for Trovo and Rumble also seemed eager to offer their streaming platforms as a possible new home for the newly adrift streamer.
— Trainwreck (@Trainwreckstv) April 17, 2023
Of course, it's far too early to say where Cenat might end up. It's possible that this ban will only last a few days and he'll be right back on Twitch in no time. It's also possible that this ban will be just the kick he needed to finally change platforms.