Xbox Boss Phil Spencer Is Taking Redfall's Launch Especially Hard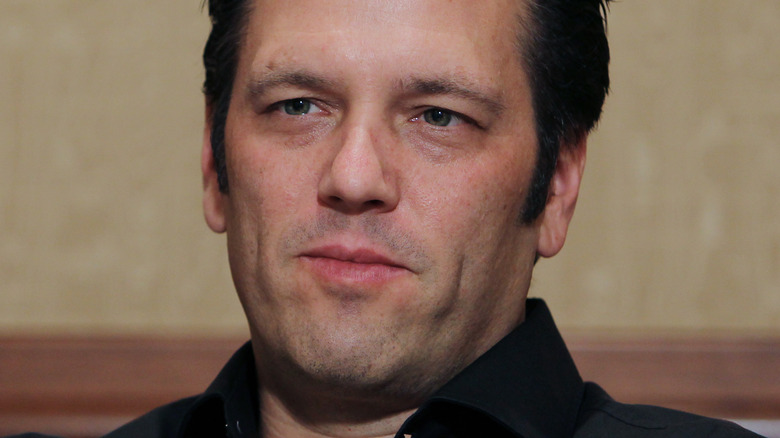 Bloomberg/Getty Images
Arkane Studios' "Redfall" has had a phenomenally rocky launch, making it one of the latest PC titles to disappoint gamers on day one. In addition to the game's controversial requirement for players to always be online, both critics and audiences have found the title to be riddled with bugs and performance issues. When the game's high-octane firefights aren't hung up by frozen NPCs or glitched objectives, gameplay is marred by poor draw distance and catastrophic drops in frame rate. Even with the game's interesting lore and fun characters, the title has overwhelmingly negative reviews on Steam and players are already dropping the game in droves. One person who has seemingly taken the game's reception especially hard is Phil Spencer, CEO of Xbox Game Studios.
Advertisement
During a recent appearance on Kinda Funny's "Xcast," Spencer broke his silence regarding the game's poor launch. He explained, "There's nothing that's more difficult for me than disappointing the Xbox community ... And just to kind of watch the community lose confidence, be disappointed. I'm disappointed, I'm upset with myself." It's not too often that an executive opens up quite like this, and Spencer wasn't done discussing the aftermath of "Redfall."
Phil Spencer on getting better after Redfall
During the interview, Phil Spencer talked about the angry response from fans when they learned that "Redfall" would not be hitting 60 fps as advertised, a reaction he acknowledged was warranted. When it came to the critical reviews, Spencer noted that he and his team took these as notes on "what can we learn [and] how can we get better?"
Advertisement
Ultimately, however, Spencer said that he had to push back against one comment that keeps coming up in reviews: the idea that Xbox should have made Arkane develop a game that stuck to the style and tone it does best. Although he certainly feels badly about the state in which "Redfall" launched, Spencer explained, "There's clearly quality and execution things that we can do, but one thing I won't do is push against creative aspirations of our teams." He added, "I'm a huge supporter of Arkane Austin ... this is one where the team didn't hit their own internal goals at launch." 
Spencer said that Arkane is currently working on addressing many of the criticisms leveled at the game, including bringing it up to the promised 60 fps. He added that he wants Xbox's studios to feel the freedom to create their passion projects, but that "Redfall" definitely fell short of the company's standards.
Advertisement