NICKMERCS And TimTheTatman Are The First Streamers To Become Call Of Duty Characters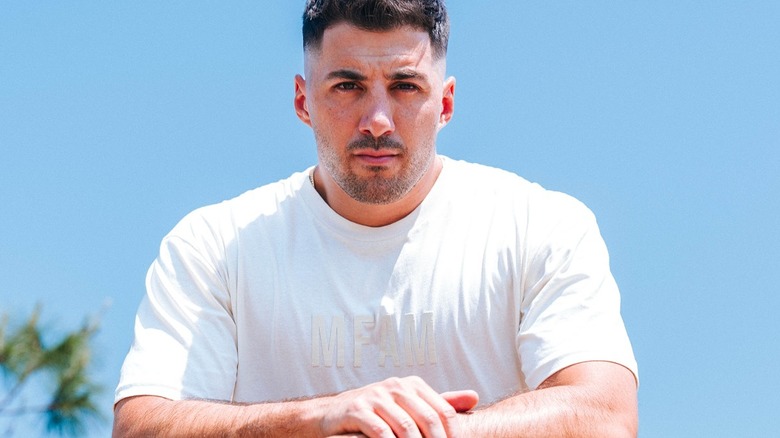 Justin LeCesne of MFAM, INC
NICKMERCS and TimTheTatman are a couple of names that are undoubtedly familiar to "Call of Duty" fans, becoming almost synonymous with the game for millions of subscribers. And now, Nick and Tim are taking their association with the beloved franchise even further by becoming immortalized as Operators in "Call of Duty: Warzone." As noted by a press release marking the addition of NICKMERCS, this is "a franchise first for a pro-gamer."
On May 10, NICKMERCS first took to Twitch with the huge news, showing off the new Operator and showing just how excited he is to become a part of "Call of Duty" history. NICKMERCS' chat immediately exploded upon the reveal of the new Operator, with fans poring over its sleek design and asking when they can play it for themselves. Even the recent leaks pointing to these additions to the game couldn't put a damper on the occasion. 
We're officially in @CallofDuty 💥

Peep my new MFAM Operator & skin bundle â€" available 5.31.23! 🔥 pic.twitter.com/h4TMWdNxG8

— FaZe Nickmercs (@NICKMERCS) May 10, 2023
Presenting: NICKMERCS' Call of Duty Operator
The official NICKMERCS Operator has a pretty intimidating design that is decidedly in-line with the pro gamer's aesthetics. Sporting a red and black color scheme, the Operator is decked out in tactical gear reminiscent of classical Spartan armor, complete with a pointed and brushed Corinthian-style helmet. The character's arms are bare, showing off that he hasn't skipped a day at the gym in a minute, and he carries a color-coordinated rifle that looks like it packs plenty of punch. According to Nick's hilarious comments during the stream, the arms are modeled directly off of his own.
Unfortunately, only Nick has access to the skin right now, but he assured Twitch viewers that he's going to look into ways to hopefully give one away to some lucky viewers. Otherwise, how do you get this bad boy for yourself? According to NICKMERCS and Activision, the bundle is "anticipated to go live May 31st." Then, "Call of Duty: Warzone 2.0" players simply have to install the Season 3.5 update, and NICKMERCS will be available under the "Operator" tab. 
Though NICKMERCS wouldn't say either way if more streamer-themed characters were on the way, he did say that he hoped this was just the start for this kind of cross-promotion. Fans immediately spammed the chat with their best guesses, with some theorizing that NICKMERCS' regular squad-mate TimTheTatman could be next in line. Little did they know, but another announcement was just around the corner.
TimTheTatman reveals his own Call of Duty skin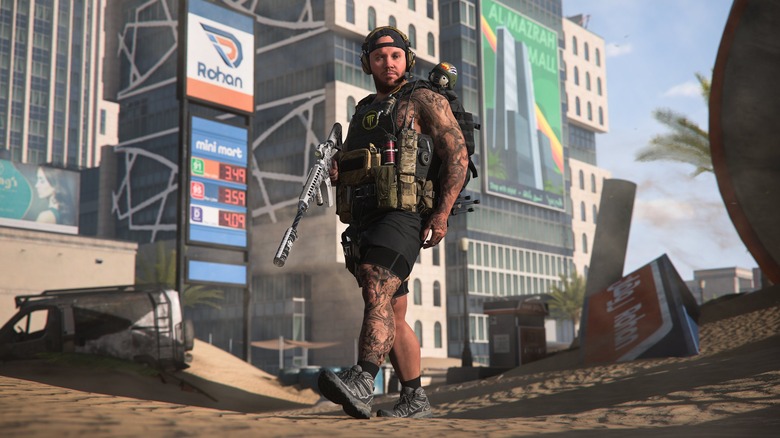 @timthetatman/Twitter
About 10 minutes after Nick's announcement, TimTheTatman astonished fans with one of his own: The rumors are true, and Tim has also become a bonafide "Call of Duty" Operator. This character model features Tim's trademark backwards baseball cap and is rocking shorts, a tactical vest, and Tim's sweet namesake tats. 
Honored to have my own operator in @callofduty – a game I've played my whole life and also started my streaming career ❤️

The TimTheTatman bundle drops May 31st! – don't miss it 📆 #CoDPartner pic.twitter.com/qF0AQ4o809

— timthetatman👑 (@timthetatman) May 10, 2023
As Tim noted in his announcement, this is a huge full circle moment for his career, as he first arrived on the scene as a "Call of Duty" streamer. Since then, the game has been a huge part of his regular streaming schedule and his life as a whole. He previously had a chance to share the screen with some "Call of Duty" soldiers in a hilarious trailer for "Modern Warfare 2," so this Operator feels like the next logical step. 
Fans will soon be able to squad up as both TimTheTatman and NICKMERCS, so get ready to see a lot more of your favorite streamers in battle.