The Sneaky Way Logan Paul Got Bootleg Video Of A 'Real' UFO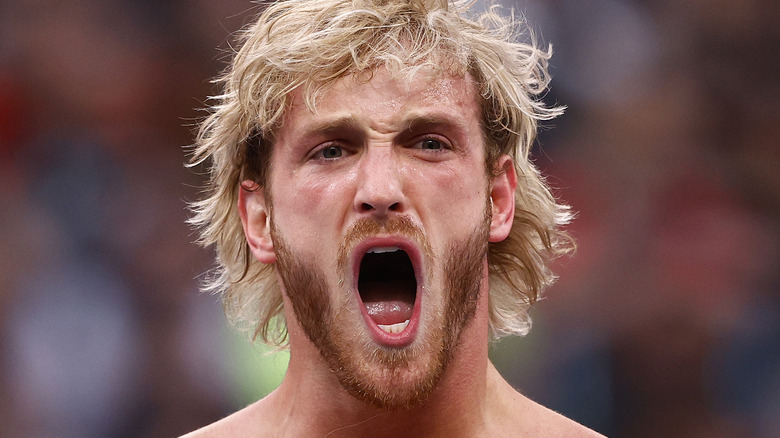 Ronald Martinez/Getty Images
Logan Paul recently claimed on his podcast, "IMPAULSIVE," that he has obtained genuine bootleg footage of a UFO. The subject was brought up when his co-host Mike Majlak claimed Paul had "the only video that proves that aliens exist," and went on to berate him for refusing to share it with the world, making jokes about him being affiliated with the government or the Illuminati and keeping important secrets from the public. Majlak brought up James Fox, producer of "UFOs: 50 Years of Denial?," and how he appeared on an episode of "The Joe Rogan Experience" to talk about evidence of the existence of extraterrestrial life. There, Fox had told Rogan and his audience about how Paul showed up at the home of the video's previous keeper, Chuck Clark, and offered him $100,000 for a copy of the tape. Paul's fans might be reminded of him employing a similar tactic to get his hands on a rare 1st edition Charizard at the height of the Pokémon card craze, when he was "obsessed" with collecting them.
Advertisement
According to Paul, it didn't exactly play out that way this time around, however. He said that he couldn't convince Clark to sell him the video, but he did manage to get his hands on a copy using some rather unscrupulous tactics. During the podcast, Majlak explained that Paul wore a spy camera that was designed to look like a shirt button to the meeting.
Logan Paul recorded the footage using a button cam
Majlak said that while Clark would not agree to sell the tape, he did allow Paul to watch it. He claimed that Paul then proceeded to use the button cam to film the video. Paul then clarified that he had already filmed the video before offering the money. "I offered him $100,000 for this tape after I had seen it," he said. He then went on to attempt to justify his actions. "It's a little twisted of me to put on a small button camera and go film UFO footage that isn't mine. Here's the thing though, it's not his either. It's not. The people who shot it gave it to him and expected he would keep it for himself." He claimed that Clark hoarding this alleged "evidence" was "doing a disservice to the world."
Advertisement
This is ironically what Majlak had accused Paul of at the start of the segment. Paul then told Majlak and their listeners, "I'm not afraid to release it. I'm just waiting for the right moment." No one addressed how anything in the video itself could be verified during the segment, nor how compelling small camera footage of a VHS recording might actually be if revealed. Paul himself closed by saying, "This whole story, like, doesn't add up and I don't think it'll ever add up. I don't know – if anyone is interested in this – if you're going to get the answers, ever, from me."