Why TimTheTatman's Skin Was Removed From Call Of Duty
"Call of Duty" games always offer tons of Operator skins to earn, unlock, or purchase, and NICKMERCS and TimTheTatman made waves as the first streamers to be made into playable characters in the franchise. At the time of the reveal, the two of them were beyond excited to see themselves represented on the screen and in one of their favorite games. But in response to a recent controversy, TimTheTatman has now demanded that his skin be removed from the game.
The story began last week, when NICKMERCS' own "Call of Duty" skin was removed from the game after a controversial Pride tweet. Following the tweet, which criticized attempts by the Glendale school board to recognize June as Pride Month (and seemingly brushing off the danger posed by violent anti-LGBTQIA+ protestors), Activision promptly dropped the NICKMERCS cosmetics. Now, TimTheTatman has had his own skin removed out of a sense of solidarity, which is sparking fresh debate and controversy among the player community. 
TimTheTatman's decision has sparked new debates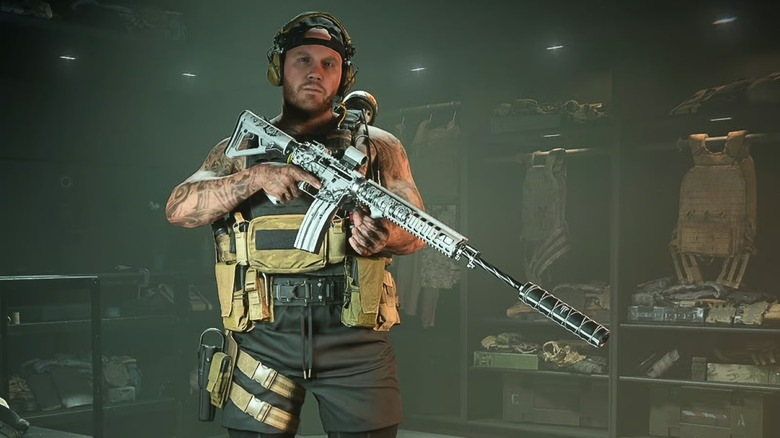 Activision
On June 10, TimTheTatman tweeted out a statement regarding the removal of the NICKMERCS character pack, saying that he'd like to have his skin removed as well. "It feels wrong for me to have mine and him no longer have his. In support of my friend, please remove the timthetatman bundle," he wrote. He tagged the official "Call of Duty" Twitter account and again referenced the fact that he and NICKMERCS both got "Call of Duty" skins at the same time.
TimTheTatman made no mention of the actual issue or statement from NICKMERCS that prompted the skin's removal, framing his decision purely as a matter of loyalty to his friend. Some fans have praised this act, while others have seen it as a political stance, criticizing TimTheTatman for what they see as his tacit support for homophobia on the part of his friend.
Activision also chose not to take a stance on the possible political (or apolitical) meaning of TimTheTatman's decision, simply telling Dexerto that it was removing the skin in accordance with his wishes. Whether or not this marks the end of the issue remains to be seen. For now, it seems there are two fewer recognizable characters that fans can play as in "Call of Duty."