Wolfenstein 2, Wargroove, And More Come To Xbox Game Pass In May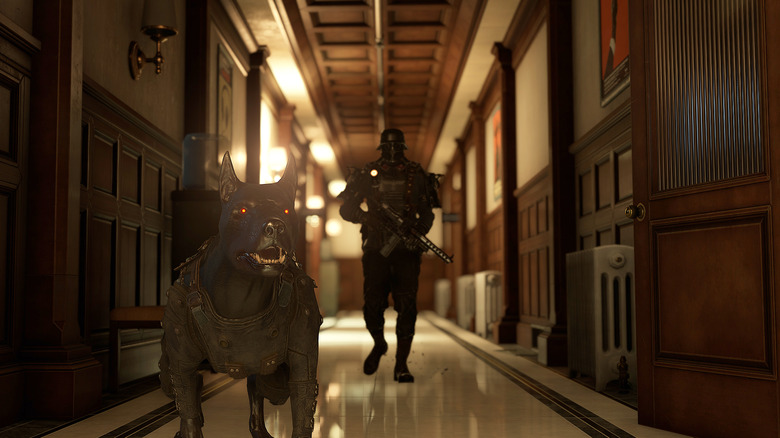 It looks like those internet sleuths from yesterday were right on the money. Wolfenstein 2: The New Colossus is, indeed, coming to Xbox Game Pass next month, along with a string of other popular titles in the days and weeks ahead.
Here's what you have to look forward to:
Wolfenstein 2: The New Colossus – May 2
Wargroove – May 2
Surviving Mars – May 9
Tacoma - May 9
Black Desert – May 9
For the King – May 10
The Surge – May 16
LEGO Batman 3 – May 16
Not a bad lineup at all.
Along with Wolfenstein 2, Wargroove is a pretty notable addition to the Game Pass library. The game launched on Feb. 1 as a spiritual successor, of sorts, to Advance Wars on the Game Boy Advance. And best of all, it supports cross-play between Xbox One, Nintendo Switch, and PC, which means you can link up and battle friends on any of those platforms.
Tacoma is another nice title coming to Game Pass, and it highlights something Microsoft's managed to do really well with the service. Adventure-style games — particularly those of the "walking simulator" variety — might be fun experiences, but can sometimes sit on the shelf when players weigh their money against how much playtime they'll get out of something. These are the kinds of games that are perfect for Game Pass, so we're glad to see there's an effort to include them.
And how about Black Desert dropping into Game Pass? This MMORPG is a pretty recent arrival on Xbox One, having only launched for the console on March 4. But it has a pretty sizable audience that can be traced back to its original release on PC. We're pretty eager to dive into this one and give it a look.
There's pretty much something for everyone here. Some Surviving Mars for the sim fan in your life. A little For the King for those who love their strategy RPGs. The Surge is sure to satiate those who want Monster Hunter-style looting in a futuristic world. And the kids will undoubtedly love LEGO Batman 3, which pits Batman against a devious foe known as Braniac.
All in all, a pretty solid month for Game Pass. We'll keep you up to speed should Microsoft drop a few more titles in at the end of the month, as the company is sometimes known to do.