NHL 19, Portal Headline June's Xbox Live Games With Gold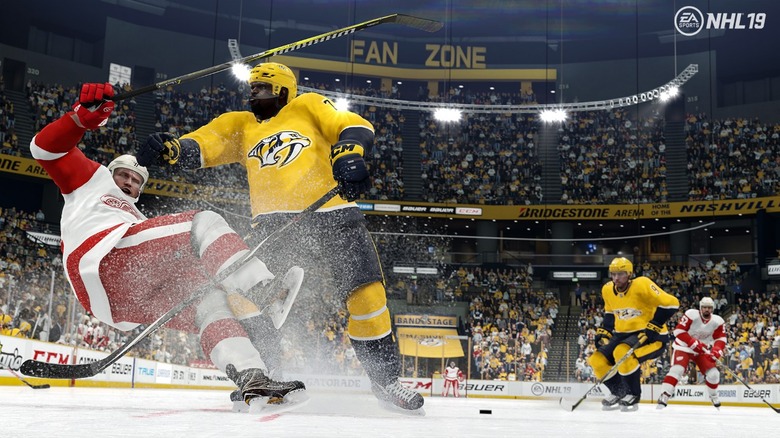 It appears Sony and Microsoft properly coordinated their news days. Just one day after Sony unveiled a release date for Death Stranding and announced its own PlayStation Plus lineup, Microsoft has followed suit with a big Xbox Game Pass announcement and, now, the list of titles coming via Games with Gold in June.
First up for the Xbox One is NHL 19, striking while the ice is still cold. The real-life NHL is in the thick of the Stanley Cup finals right now, with the Boston Bruins and St. Louis Blues tied at one game apiece. So if your team didn't quite live up to your expectations this year, you can always pretend by taking them through NHL 19's franchise mode. After all, a virtual Stanley Cup is better than no Stanley Cup. NHL 19 joins Games with Gold on June 1.
Later in the month, Xbox One owners can look forward to Rivals of Aether, an indie-developed fighting game that first released back in March 2017. We don't know a whole lot about this one, other than the fact that the developer, Dan Fornace, previously put in work at Microsoft Studios before ultimately venturing out on his own. We don't see many fighters go free in Games with Gold, so if this is your genre, you'll soon have something new to try out. Rivals of Aether becomes available on June 16.
On the Xbox 360 side of things, Valve's Portal will be available to download right off the bat. And if you've never heard of Portal, God help you. This 2007 puzzle-platformer is a treasure; the kind of game that you must play, even if you'd rather be racking up Victory Royales or Killstreaks. And after you're done with Portal, you should go buy Portal 2, as well. Is there a Portal 3? Of course there isn't. It's Valve. But you can at least enjoy the first entry in the series when it hits Games with Gold on June 1.
And lastly, Earth Defense Force 2017 joins Games with Gold in the middle of the month. This Xbox 360 title first reached our shores in March 2007, which should immediately make you feel old, as we are now past the near future this game was trying to depict. And as you can tell, we've not been invaded by aliens, and there aren't giant mechs roaming the streets. As far as the gameplay goes, though, EDF 2017 received some praise for being a fun shooter; unfortunately, a smorgasbord of technical issues kept the game from really shining. If you're an Xbox Live Gold subscriber, it won't cost you anything to at least give it a look. Will you want to devote any significant amount of time to EDF 2017, though? That's another story. Earth Defense Force 2017 enters Games with Gold on June 16.
As always, the Xbox 360 games listed above will work on Xbox One via backward compatibility, so those on Microsoft's current-gen platform have four games coming this month. And if you happen to be a Game Pass subscriber, more games are being added to that in the days ahead, so keep your eyes peeled.