Fortnite Season 10 Week 1 Road Trip Missions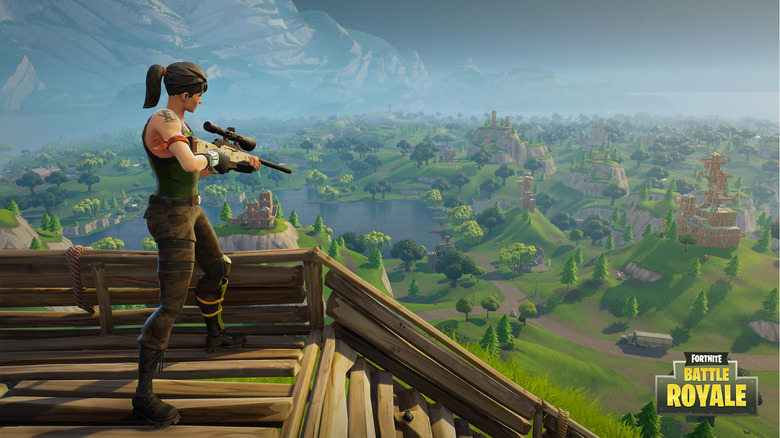 Fortnite Season 10 has a host of new challenges available to players, and this time around, they look a little different. Challenges now come in grouped up themes, and this week's Road Trip missions are no exception.
Advertisement
There are 14 different Road Trip missions you'll need to complete this week, and they vary pretty significantly in their difficulty. Some are as simple as visiting an object on the map. Others ask you to damage opponents while also doing other things. They'll require the Battle Pass, which costs $10. And below, we'll lay each of the missions out for you, one by one (hat tip IGN).
The first asks you to visit a Drift painted Durrr Burger Head, a Dinosaur, and a Stone Head Statue. This is easy enough. You just have to walk up to these objects on the map and you're done. You can find the Durr Burger Head east of Pleasant Park, the Dinosaur south of Paradise Palms, and the Stone Head Statue in the middle of the Snobby Shores, Neo Tilted, and Polar Peak triangle. This doesn't have to happen in one match.
Advertisement
Next, you'll need to deal damage to opponents while in a vehicle. As far as we're aware, Driftboards are vehicles. So if you can nab one of those and shoot enough enemies to do the required amount of damage (200), you'll have this one knocked out in no time.
You'll then need to destroy stop signs while wearing the Catalyst outfit. You have a pickaxe and, if you have the Battle Pass, you have the Catalyst skin. Simply switch over to that skin, bash ten stop signs into submission, and you're done.
Do you like ziplines? Good. You'll need to ride a zipline in three different matches for another Road Trip mission. No other requirements here. Just ride.
The next mission asks you to search three chests in different named locations. You should be searching chests anyway, so this is an easy one to complete. Just make sure the chests are in a labeled zone of the map. Oh, and you can do this over the course of multiple matches.
Here's a tricky one. One Road Trip mission asks you to visit Lazy Lagoon and Lucky Landing in a single match. These aren't too close to one another, which means you'll need to land at one and high-tail it to the other (while also not dying). Good luck.
If you have that Hoverboard from the earlier mission, keep it for this one. You'll need to get trick points in a vehicle; 250,000 points in all. Your best bet is to ride up a big hill, jump off, and do a lot of flips and turns on the way down.
Advertisement
Once you've completed all of the above (they don't have to be done in order), you can unlock Prestige challenges, which up the ante in terms of difficulty.
This time around, you'll need to visit the Drift painted Durrr Burger Head, Dinosaur, and Stone Head Statue all in the same match. Hopefully you remember where they are.
Damaging opponents while in a vehicle won't be enough this time, either. You'll now need to rack up five eliminations while riding a vehicle.
More stop sign destruction. For the Prestige mission, you'll have to destroy seven stop signs in one match while wearing the Catalyst outfit.
The zipline mission gets an upgrade, too, asking you to deal damage to opponents while riding a zipline. You'll have to deal a total of 200 damage for this one to complete.
You'll need to eliminate opponents in different named locations, which basically means kill those who reside in the labeled areas of the map. You'll need five eliminations in all, and it appears they can be collected over the course of a few matches.
You'll also have to visit ten different named locations in a single match, too. This is going to require that you are constantly on the move, so a Driftboard might not be a bad idea.
Advertisement
And finally, you'll need to earn 500,000 trick points in a single match. Again, the Driftboard is going to be your best friend on this one. You might just want to keep a Driftboard nearby at all times while completing these missions. It'll be incredibly useful.
Those are all of your Fortnite Season 10 Road Trip missions for the week! Knock all of these out, and you'll obtain a bunch of useful rewards, including up to 10,000 XP, 50 Battle Stars, an Atmosphere back bling, and a mystery spray.