10-Year-Old League Of Legends Draws About 8 Million Concurrent Players Daily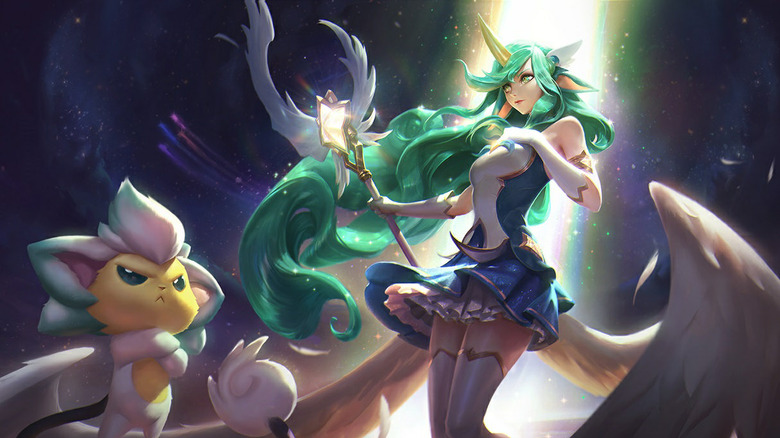 In honor of League of Legends' tenth anniversary, Riot Games has announced a special celebration and livestream. The developer also revealed that the battle arena game pulls in an average of 8 million concurrent players daily, making League the most popular PC game in the world.
As this number comes directly from Riot Games, it's impossible to verify using third-party sources. The figure represents the average daily PCU (peak concurrent users) for all Riot, Tencent, and Garena regions during the month of August. As the post points out, this makes League of Legends bigger than the top ten Steam games combined.
As part of the festivities, Riot also unveiled a new League of Legends logo, a decision players continue to tear apart in the comments. "Hard no from me on the "modernized" logo," said one user. "That new logo is way to minimalist. If the 10th anniversary is actually meant to be a big deal, then this isn't gonna cut it," asserted a second. "Can I report the riot logo design team for griefing? April 1st is still a few months away, save this logo announcement for then," wrote a third.
A Special Edition Star Guardian Soraka Figurine released today, joining the lineup of Star Guardians-themed cosmetics and swag associated with the ongoing Star Guardians event. The collector's item is available for $25 in the Riot Games Store. The Twilight Star, a Star Guardians short story, also debuted yesterday.
The League of Legends 10th Anniversary Edition livestream kicks off at 6:00 p.m. PST on October 15, 2019. The show will include a roundup of some of Riot's favorite League moments and offer a look at the future of the game, including the next big Teamfight Tactics content update. If you can't tune in during the stream, you can catch rebroadcasts throughout the following day.