GTA Online Adds Pegassi Zorrusso Supercar, Doubles Rewards On Contact Missions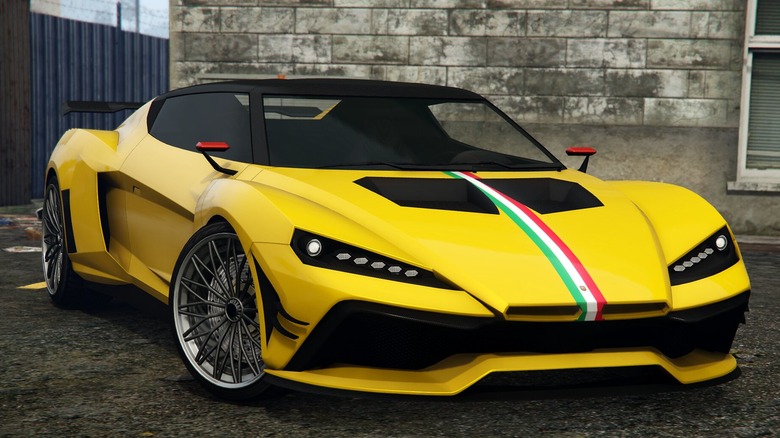 This week's Grand Theft Auto Online update adds the Pegassi Zorrusso Supercar, along with discounts and double rewards for Contact Missions, The Doomsday Heist Finale, and Casino Story Missions.
Rockstar promises that the Pegassi Zorrusso, the new Italian supercar-roadster hybrid will fill the void in your life. With its bright yellow paint job, sculptural design, and Italian flag-inspired racing stripe, the Pegassi Zorrusso is certainly easy on the eyes. If you decide you can't live without the vehicle, its now available from Legendary Motorsport. Anyone who logs into GTA Online from now through October 30 can also collect the stylish Pegassi Tee for free.
Those looking to pad their bank account can earn 2X GTA$ & RP on all Contact Missions through the Jobs menu or your iFruit contacts. You can also pull in double the rewards by completing The Doomsday Heist finale, Casino Story Missions, or Deadline matches.
Head over to the lobby of The Diamond Casino & Resort to the give the Lucky Wheel a spin. In addition to the typical GTA$, RP, clothing, you have the chance to take home this week's showcase prize: the Vapid Caracara 4x4. The all-terrain vehicle was built to withstand the worst that nature has to throw at it, making it an off-roader's dream.
After collecting your hard-earned cash, you can take advantage of these fresh discounts:
Pegassi Oppressor Mk II – 35% off
Överflöd Autarch (Super) – 40% off
Överflöd Entity XXR (Super) – 40% off
Överflöd Entity XF (Super) – 40% off
Överflöd Tyrant (Super) – 40% off
Western Gargoyle (Motorcycle) – 35% off
Shitzu Hakuchou Drag (Motorcycle) – 35% off
Pegassi Vortex (Motorcycle) – 30% off
Pegassi Bati 801 (Motorcycle) – 35% off
Vapid Caracara 4x4 (Off-Road) – 35% off
Buckingham Akula (Military) – 40% off
TM-02 Khanjali (Military) – 40% off
Mammoth Thruster (Military) – 40% off
Mammoth Avenger (Military) – 40% off
Facilities, Add-Ons, & Upgrades – 50% off
High End Apartments & Renovations – 50% off
Grand Theft Auto 5 is available now for PlayStation 3, Xbox 360, PlayStation 4, Xbox One and Microsoft Windows.