Fortnite: Chapter 2 Dockyard Deal Mission Challenges, Hidden 'T' Location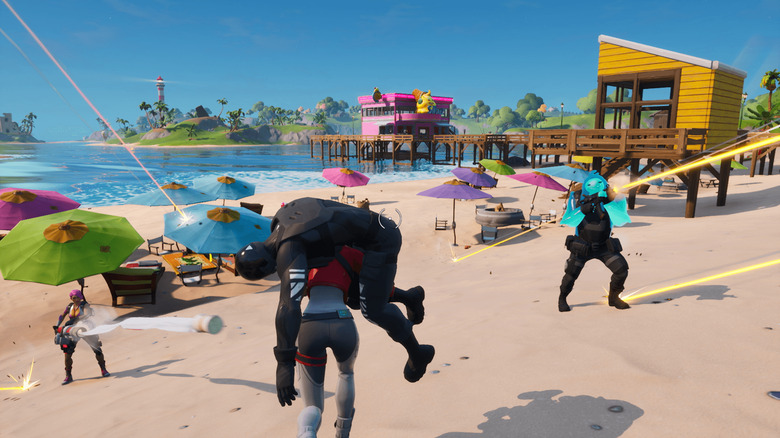 Ready to level up that Battle Pass? Fortnite: Chapter 2 just dropped a brand new Mission this week called Dockyard Deal, and below, we've got the skinny on the challenges you'll need to complete, as well as where you can find that hidden letter "T" on the map.
Here is what Epic Games is asking you to do this week:
Eliminate opponents at Pleasant Park or Dirty Docks (3)
Jump a Motorboat through different flaming rings (3)
Search chests at Dirty Docks or Salty Springs (7)
Deal any damage to opponents by shooting exploding gas pumps
Deal damage to opponents with Sniper Rifles (250)
Visit the Boat Launch, the Coral Cove, and the Flopper Pond
Deal damage to opponents from above (250)
Deal damage to enemy structures with Explosive Weapons (200)
Land at Weeping Woods, Lazy Lake, and Pleasant Park
Eliminate opponents using Explosive Weapons (2)
Search for the hidden "T" found in the Dockyard Deal Loading Screen
Out of all these challenges, we really only take issue with one of them: damaging opponents by shooting exploding gas pumps. This is going to require some luck, not just to catch an opponent standing next to a pump, but to find a pump someone hasn't already blown up. We really, really wish Epic would stop including challenges like these in Fortnite. They're not fun.
CH2:S1:W4, Dockyard Deal Challenges (All-Inclusive Cheat Sheet) from
FortNiteBR
Now, that "T" from the loading screen. Above, we've embedded a cheat sheet from the all stars at r/FortniteBR, which should help you locate the various points of interest you'll need for the other challenges. And below, we've embedded a video from YouTuber HarryNinetyFour showing you where the letter "T" is located.
Remember, you'll need to have completed some other challenges before the "T" shows up on the map. So if you're following the path and the "T" is missing, ensure you have that challenge unlocked.
And that's it! Be sure to check back next week for a new Mission and a new set of challenges. We have a sneaking suspicion there'll be a letter "N" to find, too.