Rumor: Winter Is Coming To Red Dead Online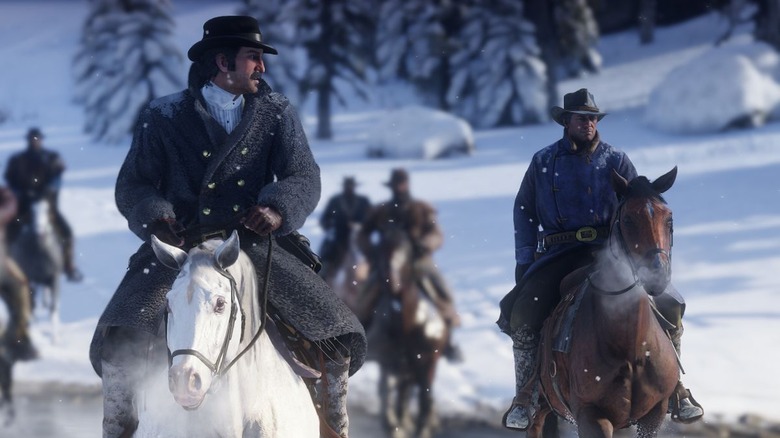 Live service games often offer themed holiday and seasonal events. A new datamine suggest Red Dead Online plans to get in on the action this Christmas with a change that will affect the entire map.
As shared by self-identified "Rockstar Games enthusiast" VideoTech_, dataminers discovered a texture named "world_snow_coverage_xmas" in Red Dead Redemption 2's PC files. Based on this reference, it sounds like snow may soon blanket the entire Red Dead Online map as part of an upcoming Christmas-themed event. Given Rockstar covers Grand Theft Auto Online with flurries every winter, it wouldn't come as a surprise if they took a similar approach with Red Dead Online.
Beyond a fresh dusting of snow, a Red Dead Online Christmas promotion would likely introduce some holiday-inspired Legendary Bounties along with a lineup of seasonal cosmetics. Rockstar took a similar approach to the Red Dead Online Halloween celebration, which rolled out a selection of spooky masks and a fearsome Legendary Bounty hiding in the swamps. If GTA Online's Festive Surprise is any indication, you'll also have new weapons, holiday gifts, bonuses, and limited-time modes to look forward to.
Now that Red Dead Redemption 2 has launched on PC and the developers have had time to work out the major kinks, you'll likely see a more consistent lineup of promotional events. Of course, as with any datamine or alleged leak, there's no guarantee Christmas is on its way to the Wild West. Snow, at least, seems like a more reasonable dream than a story-based RDR2 DLC, a fading hope as Rockstar turns its attention to the next generation of consoles. At least there's a new open-world character-based game on the horizon.
Red Dead Redemption 2 is available now for PC, PlayStation 4, Google Stadia, and Xbox One.