Call Of Duty: Modern Warfare Glitch May Have Revealed Battle Royale Mode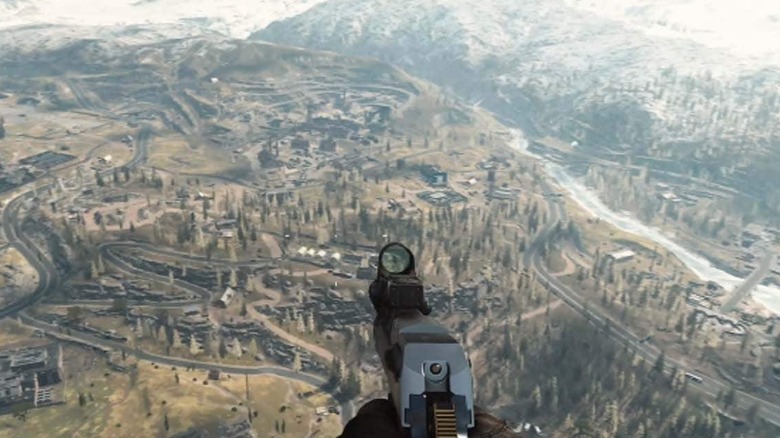 Call of Duty: Modern Warfare might be the latest game to jump on the battle royale bandwagon. Though Activision and Infinity Ward have not made any official announcements, data miners and an apparent glitch point to a battle royale mode hidden in Modern Warfare's code.
Over the weekend, Reddit user Nateberg3 posted a video of their character floating above a large, never-before-seen map after attempting to load into a Spec Ops match. Aspects of the map seem to lineup with information shared by Senescallo, a data miner, last month. A close look at the video reveals a dam and an airfield, both features included on Senescallo's list.
The massive map seems to support Senescallo's claim that 200 players will load into a match at one time. The leak alleges Modern Warfare will unveil this poorly kept secret in early 2020. Commentors have also suggested Infinity Ward is working on the base game, while Raven Software is developing this standalone, free-to-play mode. The studio has an established history with the Call of Duty franchise, so their involvement makes sense. 
Infinity Ward art director Joel Emslie has teased the possibility of a battle royale mode before. "I like larger player counts," Emslie told Game Informer during an August 2019 interview. "Larger player counts" would certainly fit the rumored 200-player matches. Beyond Emslie's hints, Infinity Ward and Activsion have remained silent about a battle royale feature, a fact that hasn't stopped fans from taking to Twitter and begging Infinity Ward to make the battle royale mode happen.
Modern Warfare's unimpressive lineup of launch maps was one of the biggest complaints following the game's release. Another alleged leak from Senescallo at the start of November indicates the game has 38 new maps on the way. This, coupled with an impressive battle royale mode, could take Modern Warfare from "good" to "great."
Call of Duty: Modern Warfare is available now for PC, PlayStation 4, and Xbox One.