Don't Miss The Upcoming Ghost Of Tsushima Trailer At The Game Awards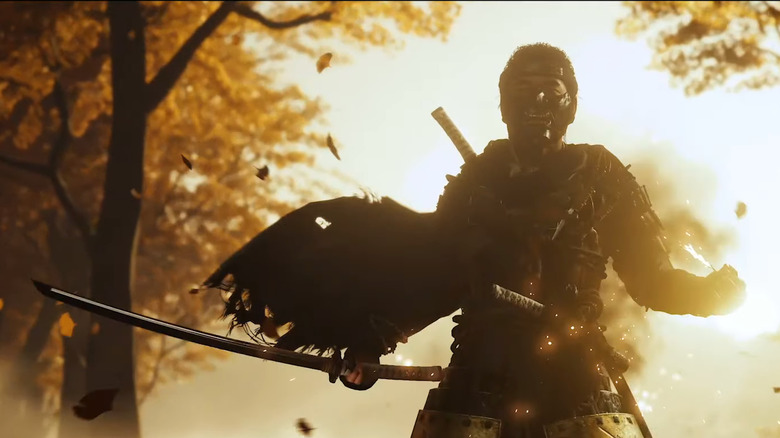 Sony showed off its final State of Play for the year, revealing all sorts of exciting news, including a release date for the heavily rumored and hotly anticipated Resident Evil 3 Remake. The announcement reel ended with an equally exciting stinger: a short teaser trailer for Ghost of Tsushima. Following the reveal, Geoff Keighley, producer and host of The Game Awards, tweeted about the PlayStation exclusive.
Advertisement
"As just announced on State of Play, don't miss a world premiere new look at Ghost of Tsushima from @SuckerPunchProd and @playstation during #TheGameAwards on Thursday night live!" he wrote. "Quick aside: This is our longest trailer in the show on Thursday!"
Looks like PlayStation fans have something big to look forward to at The Game Awards. Ghost of Tsushima hasn't made a public appearance since the dramatic nine-minute trailer dropped at E3 2018. Sucker Punch and Sony have remained relatively quiet about the game since then, but it looks like they may blow the lid off come Thursday evening.
No one knows how much the trailer will reveal. Sony may finally unveil a release date or simply show more of what the game has to offer. According to Kotaku's Jason Schreier, Sony originally had an early 2020 launch in mind for the samurai-flavored action adventure; however, the company pushed the release to late 2020 following the delay of The Last of Us 2. With that in mind, Ghost of Tsushima could be one of the last big PlayStation 4 exclusives or, perhaps, one of the first big PlayStation 5 exclusives.
Advertisement
Even if PlayStation exclusives aren't of any interest to you, The Game Awards are sure to be interesting this year. Keighley promises at least 10 brand new projects during the two-and-a-half-hour ceremony, including a possible new addition to the League of Legends IP. Otherwise, there's just the spectacle of seeing which game will walk away with the coveted Game of the Year award, a category that has sparked some unsavory controversy.