We're Finally Getting A Drama Free Version Of League Of Legends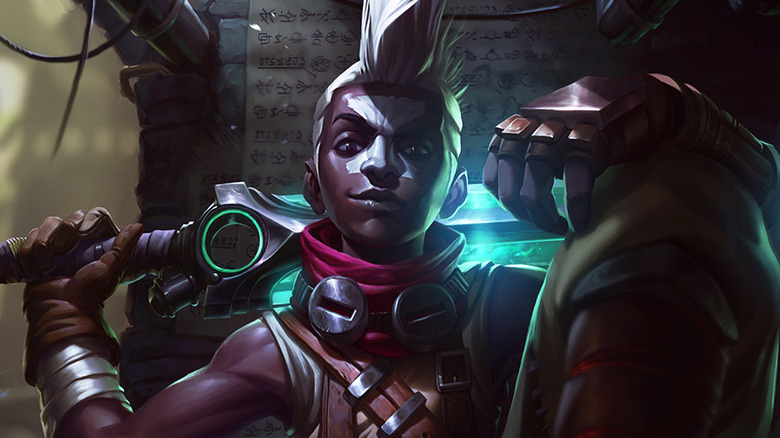 Riot Games revealed two new League of Legends titles during The Game Awards, the first of many indie projects that will release through Riot Forge, the company's new publishing arm.
Riot Forge will partner with developers from around the world to deliver bespoke, story-driven experiences that expand the League universe. Thanks to the tireless efforts of Riot's game designers, Runeterra boasts limitless narrative potential. With nearly 150 champions and multiple regions established, the setting contains a wealth of promising concepts for studios to highlight and cultivate.
With League of Legends reporting an average 8 million concurrent players daily, these new projects have a built-in audience. The prospect of new League content, especially in the form of games that re-imagine how players interact with the world and its champions, has a strong appeal. In fact, the biggest benefit of the Riot Forge approach may be the ability to play the games solo. You won't have to worry about random players feeding the other team or getting flamed in the chatroom. Instead, you can enjoy the intricate universe, compelling characters, and unique mechanics the developers have crafted.
Here's a rundown of what League lovers have to look forward to.
Ruined King: A League of Legends Story
Ruined King will be the first single-player experience for the League of Legends franchise. Developer Airship Syndicate, known for its work on Darksiders: Genesis, describes Ruined King as a "story-driven, turn-based RPG" that will offer "a new take on turn-based combat." The narrative picks up in the aftermath of the Burning Tides event, which introduced Bilgewater into the new canon and culminated in Gangplank's supposed death. Airship CEO Joe Madureira revealed you will play as League champions as you explore Bilgewater and the Shadow Isles.
Based on the setting, Miss Fortune, Graves, and Twisted Fate will likely feature in Ruined King. The trailer heavily implies the involvement of Thresh, The Chain Warden. Other Shadow Isles champions such as Elise, Yorick, and Hecarim could feature too, and you should keep an eye out for husband and wife duo Lucian and Senna due to their history with Thresh and affiliation with the Sentinels of Light.
Convergence: A League of Legends Story
Montreal-based Double Stallion Games is developing Convergence: A League of Legends Story. The single-player action platformer centers on Ekko, known as "the Boy Who Shattered Time." The game will explore Zaun, a society known for its industry and technological advancements, as well as the consequences of messing with the flow of time. Several other League champions come from Zaun, including Jinx, Blitzcrank, and Janna, so, they may pop up in the story.
Both Ruined King and Convergence will launch for consoles and PC, though Riot Forge has yet to provide a release date for either project.