Saints Row 4 Gets Its Final Port
Today, publisher Deep Silver announced that 2013's Saints Row 4: Re-Elected is coming to the Nintendo Switch on March 27. This bonkers action game casts players as the President of the United States, who takes the responsibility of saving the entire world into his own hands. 
The trailer for the Nintendo Switch port shows off some of the humor, weaponry, and all-around mayhem that the game has in store. The port will also include all of the DLCs released for Saints Row 4, including story expansions and different character customization packs. 
Saints Row 4 is a lot of fun, with PC Gamer calling the game in its original version "both gloriously stupid and stupidly good." Folks who missed out on its initial release should be excited to dive into the crazy action with this new port. The fact that this game is even heading to Nintendo consoles seems to be part of an interesting trend. 
Do Saints Row and the Switch work well together?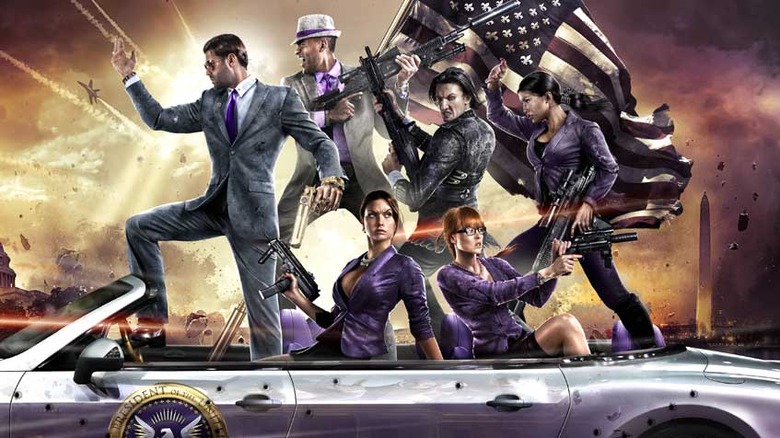 This isn't the first time a Saints Row game has made its way to the Nintendo Switch. A previous port of Saints Row: The Third was released just last year and the reviews weren't particularly kind. Polygon took it to task for its dated humor and laggy frame rate. 
It's just kind of wild to think of a Saints Row game even being on the Switch, let alone more than one. Over the years, Nintendo has made something of a point to reinforce its "family friendly" value system, which many believe has been integral to the company's success. 
It appears that Nintendo is making a concentrated effort to bring in all ages groups. News of this port comes just after the announcement of a remastered edition of Ty the Tasmanian Tiger for the system, which is a considerably more youth-oriented game. There's also the possibility of Cyberpunk 2077 coming to the Switch in the future, which suggests that Nintendo's fanbase is much broader in age range than it used to be.