Why FaZe Blaze Didn't Join The FaZe Clan Mansion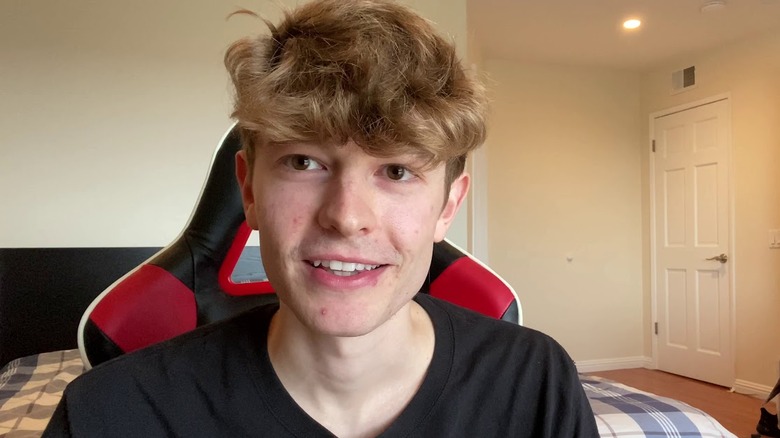 It appears as though esports team FaZe Clan's troubles haven't entirely ended, but some of their members may be on the right track. And it has all started with the most unlikely of places. Recently, FaZe Clan showed off their latest residence: a massive mansion with a pool and on-site gym that reportedly cost somewhere between 10-30 million dollars. However, it seems that not everyone will be asked to join the team in their new digs ... and that may actually be a positive thing.
Advertisement
Though he has been a member of FaZe Clan since 2015, FaZe Blaze has revealed to fans that he was not invited to go along with his teammates. In a new video posted to his YouTube channel, Blaze explains the series of events that led to him not joining FaZe Clan in the new mansion. While he explains that his departure from FaZe Clan wasn't entirely by choice, Blaze seems at peace with the decision. 
He explains to viewers that he was simply told by FaZe Clan's Head of Digital Marketing that he wouldn't be living with the team anymore. Though FaZe Clan's reasoning behind this decision are unclear, Blaze received a better perspective on the situation from former FaZe Clan member Apex. According to Blaze, Apex said that moving out of the FaZe Mansion when he did was a very positive experience for him, allowing him to get a better handle on his own happiness.
Advertisement
Furthermore, Blaze explains that his departure from FaZe Clan will benefit him in the long term, as he found himself unhappy with his team contract. This is actually a recurring complaint among old and new members of FaZe Clan.
FaZe Clan has been fairly embattled in recent months, getting involved in one controversy after another. Last year, FaZe Clan member Tfue filed a lawsuit against his team, alleging that the contract he'd signed was completely unfair. In addition to his own lawsuit, Tfue revealed that fellow FaZe Clan member H1ghSky1 was signed to his contract while underage.
As Tfue's lawyer said at the time, "Faze Clan's primary and essential function is to promote and sell Tenney's artistic services and procure sponsorship deals which feature those services ... Because Faze Clan is unlicensed, it has avoided regulation by California's Labor Commissioner. The need for licensure and regulation, however, is dire. Not only does Faze Clan take advantage of these young artists, it jeopardizes their health, safety and welfare."
FaZe Clan responded by filing a countersuit against Tfue, who technically remained a member of the team while the suits proceeded. However, that wasn't the only issue experienced by the team during this time.
Advertisement
Toward the end of last year, FaZe Jarvis cheated and received a lifetime ban from Fortnite when he was caught using an aimbot. Despite having Ninja coming to his defense, FaZe Jarvis was let go from his contract with FaZe Clan. This was followed by FaZe Jarvis releasing a bizarre diss track hitting back at the Fortnite community and some of his former teammates.
Most recently, FaZe Dubs was suspended from the team for using a racial slur during a live stream. This time, not even Ninja had words of defense for the young gamer. Though Dubs has expressed his embarrassment and remorse for the incident, it did cause more of a negative spotlight to be shone on FaZe Clan.
All in all, it's been a messy several months for the team. However, it seems now that some of FaZe Clan's members are genuinely making steps to reduce the toxic atmosphere that has been built up around them. Even though this wasn't Blaze's decision, it seems like distancing himself from the embattled team may work out for the best.
At the very least, his fans seem to be very supportive of his positive outlook and future prospects. In the comments on his YouTube video, one fan says writes, You could tell how real and transparent you were being in this video. I feel like this is the best for you ... I've been supporting you since I was a kid and I still do. Don't let this FaZe you." 
Advertisement
Another fan expresses their disappointment with FaZe's actions toward a longtime member, writing, "Completely changed my whole perspective on the faze clan. Thought the original members actually had a strong bond, but I guess not."
Still, Blaze's attitude towards the whole situation is commendable. While we've seen many other people burned by FaZe Clan reacting in bitter ways, it really looks as though Blaze is taking this opportunity to start over fresh.