Why Ninja Was Banned From Michael Jordan's Party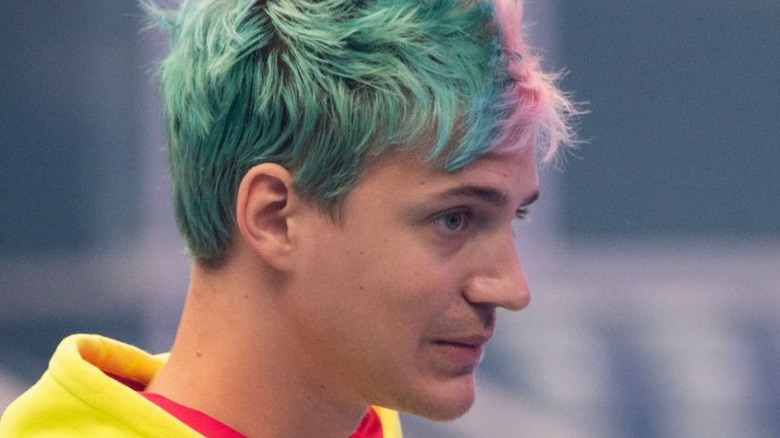 Even big time streamers like Ninja can occasionally discover that they've been left off the guest list. Unfortunately for Ninja, that recently happened to him at a party for a bonafide sports star. During a recent stream with Dr Disrespect, Ninja decided to share a recent embarrassing anecdote. This story involved him getting banned from a party thrown by none other than NBA legend Michael Jordan.
A clip of the exchange has been shared by Twitch user avatarghibli. In the clip, the two are beginning a match in Call of Duty: Warzone when Ninja asks, "Want to hear a funny story about the NBA All-Star Weekend?"
Though Dr Disrespect says "no," he then started chuckling and encouraged Ninja to continue. Already, the story is off to a fun start. Ninja then reveals, "I was ... put on a 'do not enter' list for one of the parties."
Ninja then asked Dr Disrespect to guess which party he was barred from. "Uh, was it a player?" asked Dr Disrespect. 
Once Ninja had confirmed that it was indeed a retired NBA player, the guessing game really began. Dr Disrespect guessed Scottie Pippen and then sat in silence for a moment before asking who it was. That's when Ninja dropped the bombshell that Michael Jordan wouldn't let him into his party.
Dr Disrespect seemed to get a real kick out of this. He laughed and remarked, "Jordan said 'no' to you, huh?"
As Ninja would go on to explain, the reason he wasn't allowed in was because it the party was being thrown by both Jordan and the Nike brand. Jordan and Nike, of course, have been in a partnership since way back in 1984. Nike has produced the Air Jordan brand of sneakers since then, with the newest version of the shoe releasing back in December 2019.
In other words, Ninja was probably banned from the party due to his ties to a rival shoe company. The two companies are fierce competitors, so it makes a lot of sense. It'd be like walking into a Coca-Cola party with a big bottle of Pepsi. You just don't do that, which is probably why Ninja seems to be willing to chuckle about the story. 
It's kind of ironic that Ninja would share this story with Dr Disrespect, of all people. Last year, Ninja unveiled the design of his sneaker collaboration with Adidas. Naturally, the internet had a field day with these shoes, but the Doc was one of the most high profile people to slam them. At the time, he tweeted a photo of New Balance 574s with a caption reading, "cute design." Dr Disrespect was clearly drawing comparisons between the two sneaker designs. Dr Disrespect was able to live up his name, but Ninja essentially laughed off the joke.
However, Ninja and Dr Disrespect have always had a bit of a playful adversarial relationship. Dr Disrespect has previously also roasted Ninja for his TikTok channel. The Doc has also made some comments hinting that Ninja's big move from Twitch to Mixer was a mistake. However, he was also one of the first streamers to congratulate Ninja when he became the first content creator to get their own Fortnite skin.
That didn't stop Dr Disrespect from gently ribbing Ninja during this latest exchange, however. When Ninja asked Dr Disrespect if he could believe that the Jordan/Nike party would ban him, the Doc simply said, "Uh, yeah," and grinned.
To his own credit, Ninja remained rather self-effacing about the whole thing. He quipped, "So, I mean, listen, I'm proud of myself, man. I only cried for, like, 20 minutes in my room after."
As for the party, it's probably safe to assume that Ninja wasn't turned away specifically by Michael Jordan himself, but rather his management. Still, it's probably a bummer for Ninja either way. Michael Jordan and Ninja would probably have plenty in common, strangely enough. Both of them have turned their names into brands in their own right. Not only that, but Michael Jordan has dipped his toe into the world of video games more than once. Not only has he lent his likeness to sports games in the past, but he has also invested in the world of esports. Back in 2018, Michael Jordan was part of a group that invested over $26 million in esports company aXiomatic.
It's a shame that brand loyalties played a part in Ninja being barred from the Jordan and Nike shindig. However, at least the streamer now has a pretty great anecdote to tell.