There Could Be More To This Call Of Duty: Black Ops Leak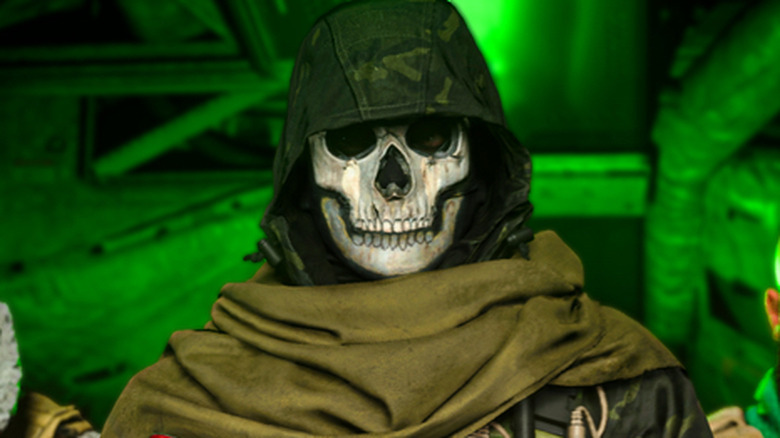 Call of Duty fans are having a heck of a year. In addition to the release of Call of Duty: Warzone and Call of Duty: Modern Warfare 2 Campaign Remastered, we may be getting a new Call of Duty: Black Ops entry in the very near future. Recent leaks have suggested that the new game could be set during a very specific time in history, as well.
According to noted video game info leaker Okami and anonymous sources connected to Eurogamer, the next entry in the franchise may be called Call of Duty: Black Ops Cold War. Okami teased this information with a cover art mockup on Twitter that already has fans going crazy.
— Okami (@Okami13_) May 19, 2020
However, there are plenty of reasons to believe that this is more than just a wild rumor. It has been discovered that Call of Duty: Warzone contains multiple mysteries and apparent nods toward the future of the franchise.
Fans of Warzone believe we may be getting very close to some kind of in-game reveal related to the next Black Ops game and Warzone's next season. Ever since Call of Duty: Warzone launched, players have been mystified by the presence of multiple bunkers that cannot be opened, as well as keypads and communication devices that appear to have no functional purpose. 
However, all of that changed with the game's latest update. According to a report from Charlie Intel, things are beginning to become extremely interesting where the bunkers are concerned. Within no time at all, players began to figure out that the new update includes key cards that can be found and used to open some of the bunkers around the map. These vaults/bunkers have contained all kinds of goodies, including weapons and loot boxes. However, they also appear to be teasing something coming in the near future. 
Players have found peculiar phone messages in Russian, which have been translated as saying such things as, "All forces, the base is captured! Change the encryption" and "They're getting closer."
Okami seemed particularly intrigued by this last point. The presence of a competing Russian force seems to lend further credence to the idea that the next season of Warzone could tie directly into the rumored Cold War era game.
Other players seem to be latching onto this idea, as well. One fan tweeted, "Nuclear war was an anticipated threat from the Cold War from both US and Russia. The warzone map is in Russia. Today, the bunkers started opening, which are built to protect ppl from fallout."
Even more foreboding is the fact that another group of intrepid dataminers were able to discover that Warzone's mysterious Bunker 11 is hiding a nuclear warhead inside. 
It all seems to be confirmation of one of the biggest theories that has surrounded the bunkers since the beginning. As theorized by YouTuber PrestigeIsKey, the bunkers are likely part of some big upcoming in-game event. PrestigeIsKey came to this conclusion after managing to clip a drone through the walls of a bunker and finding yet another locked door.
That's when it became very clear that Infinity Ward was hiding something major that players were not allowed to peek at. As PrestigeIsKey said at the time, "I would imagine we would have to trigger an event ... to load in the [entire] area. When it is closed we aren't supposed to see anything anyway."
Battle royale games have used disastrous events in the past an in-game reason for the terrain changing. Fortnite's map has gone through all sorts of interesting geographical changes, so maybe Warzone is taking a cue from that game. The detonation of a nuclear warhead would certainly add an interesting piece to the game's lore that could kick off a whole new map for Warzone's next season. 
It makes sense that Infinity Ward would try to use Warzone to hype up the next chapter in Black Ops. Earlier this month, Infinity Ward's narrative director Taylor Kurosaki said that Warzone would essentially connect the entire franchise together. As Kurosaki explained, "Warzone will be the through-line that connects all of the different various sub-franchises of Call of Duty. It's going to be really cool to see how the different sub-franchises sort of come in and out of focus, but Warzone will be the one constant."
For now, all we have is speculation, but the evidence is pretty convincing. Hopefully we'll hear something soon regarding the mysterious warheads and what it all may have to do with the next installment in the Black Ops series.