GTA 6 Fans Just Got Bad News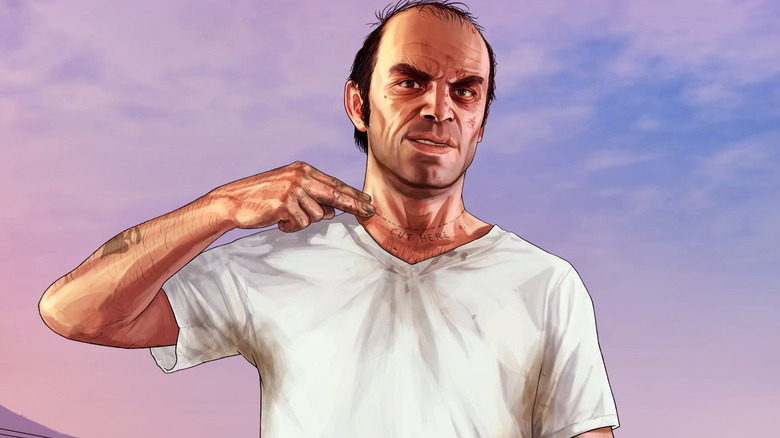 Grand Theft Auto fans holding out hope for a new game in the near future may be in for a disappointment. According to a new document filed by Rockstar Games' parent company Take-Two Interactive, it could be another few years before the next Grand Theft Auto graces store shelves.
Advertisement
Thanks to a recent filing to the United States Security and Exchange Commission (SEC), we now have an idea of what Take-Two's marketing budget looks like for the next few years. Most notably, the company intends to spend a staggering $89 million on marketing in the 2024 fiscal year, which begins April 2023 and ends March 2024. To put things in perspective, that's more than double the approximate $40 million marketing investment for the 2023 fiscal year. Other years in this filing have listed much lower marketing budgets. In other words, it definitely looks like something big is coming between FY 2023-2024.
While this doesn't necessarily mean anything for the continuing GTA franchise, it certainly seems likely that a new GTA game would call for a large marketing push. Considering the marketing budget for FY 2022 is only around $38 million, it seems less likely that we'll see the launch of a major sequel like Grand Theft Auto 6 (or whatever it's going to be called) in that year.
Advertisement
According to financial analyst Jeff Cohen, there's even more reason to think that Take-Two is planning something big for that year. A report from Cohen suggests that Take-Two has only recently allocated these extra funds to the FY 2024 marketing budget. This would seemingly indicate that the company's long-term plans have changed in a big way. Either something has shifted forward or backward in Take-Two's internal release schedule, something that the general public is not privy to just yet.
As Cohen writes, ""We are not sure how much we should be reading into this shift, but we would note that this disclosure accurately predicted the launch of Red Dead Redemption 2 prior to that game's announcement. Management has spoken very confidently about the pipeline over the next five years and existing live services execution has been excellent. However, the timing of the next Grand Theft Auto remains top-of-mind for investors, particularly with the stock near all-time-highs."
Cohen makes a great point in this instance. We've recently heard that Take-Two has quite literally dozens of new releases planned for customers in the next five years.   On a recent call with investors, Take-Two CEO Karl Slatoff mentioned that the company has a slate of over 90 games in the works for all platforms. Considering what a huge seller Grand Theft Auto 5 has been, it's not a surprise that Take-Two's investors would be waiting on pins and needles to find out when the next game will arrive.
Advertisement
If things line up the way Cohen predicts that they will, then the allocation of marketing funds for FY 2024 seriously points to Take-Two putting out another tentpole game that year. It's looking pretty likely that our next chance to cruise the mean streets of Los Santos will be some time in 2023 or early 2024. That would be pretty wild, considering it would mark a full decade between Grand Theft Auto installments. Still, it's worth noting that the game's release would follow not only the launch of a new console generation, but also the economic pressures caused by the coronavirus outbreak.
In Take-Two's SEC filing, the company actually acknowledges these last two points. Take-Two writes, "In 2020, we expect Sony and Microsoft to launch their respective next generation consoles, although COVID-19 or other events may impact the timing of release and availability of these new consoles."
Take-Two goes on to point out that gamers tend to slow or halt their purchases of new games and related products during a transitional period between consoles. Because of this shift, it's harder for Take-Two and other companies to properly estimate sales and operational costs around these times. Ultimately, new console launches tend to become something of a "wait and see" game for software developers.
Advertisement
In other words, it may make the most sense for Take-Two to wait and see how the next console war shakes out before pouring a ton of money into launching GTA 6. The game is going to be a hit regardless, but waiting a couple of years could be the smartest move for the company, given the circumstances. That's definitely not what antsy Grand Theft Auto fans want to hear, but hopefully that means the final product will be super polished and worth the wait.