Xbox Head Breaks His Silence On PS5 Reveal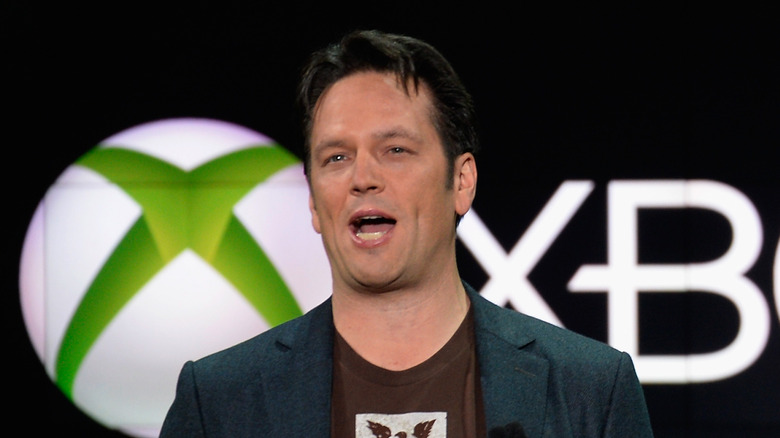 Kevork Djansezian/Getty Images
Earlier this month, Sony made waves with PlayStation's big Future of Gaming livestream event. While responses to the event itself were mixed, one thing is for sure: Sony didn't hold anything back. Along with reveals for some huge games like Horizon: Forbidden West and Spider-Man: Miles Morales (and uh, that re-re-re-release of Grand Theft Auto 5), we finally got a good look at the PlayStation 5 itself. 
It sure seemed like Sony had thrown the gauntlet down, and many have been curious to see how Xbox would respond. Now we have an idea of how the Xbox team feels about the big reveal event — and it doesn't seem like Microsoft is particularly worried.
Xbox head honcho Phil Spencer was recently asked what his overall thoughts were on the Future of Gaming show. He said that he did watch the presentation and offered his take on the upcoming Sony console. Unsurprisingly, Spencer was very diplomatic when discussing the competition's new games and hardware. However, he made it clear that he's feeling more confident than ever in the Xbox Series X.
"Just being honest, I felt good after seeing their show," Spencer said.
He also said that "as a competitor," it's always good to see what the other team has in store. This makes a lot of sense, considering we've heard rumors in the past that both companies were playing a bit of a "wait and see" game when it came to making any formal announcements regarding their consoles. This is apparently part of the reason why it took so long for the PS5 to get a full reveal and why we still don't have a price point for either company's next-gen systems.
If this is accurate, then it seems that the "wait and see" approach may really pay off for Xbox in the long run. Now that PlayStation has shown its hand, the Xbox marketing machine can go into full swing. In fact, it's looking very likely that this is precisely how Xbox was approaching its own reveals.
As Spencer explained, "we got more clarity on what [Sony is] doing at their show which just helped us focus in on more of what we have, and I think that will be a strength for us at launch."
It seems as though Microsoft has been taking notes on its own big reveal events. Every Tuesday in July, new first-party Xbox games will be shown off in video presentations.
"Teams are working hard to get it lined up, we've taken feedback from our last event and I think people are really going to be pleased with what we're going to be showing there," Spencer said.
It's also worth noting that Spencer has previously expressed his confidence in the Xbox brand going into the next generation. In fact, he's not particularly worried about whether or not the Xbox Series X outsells the PlayStation 5. Earlier this month, Phil Spencer told the BBC that he understood if people weren't ready to spend the money on a new console this year. Due to the time of "economic uncertainty" people are living through at the moment, Spencer explained that he felt that it was more important in the long run to support existing Xbox customers. 
By offering services like Smart Delivery, through which customers can upgrade any cross-gen game purchased for a current console when they finally pick up the Xbox Series X, Spencer hopes to foster a more comfortable fan base. It also allows customers the choice of when to make the next-gen leap. It's also worth noting that PlayStation 5's own upgrade system is less all-encompassing than Smart Delivery, which may give the Xbox Series X a leg up on the competition. 
Elsewhere in the interview, Phil Spencer said that fans can expect to see some footage from the upcoming Halo Infinite during next month's presentations. It remains to be seen what other first-party Xbox games will be shown off, but according to Xbox marketing director Aaron Greenberg, his team is "working hard" on putting these video presentations together.
Regardless of what exclusives we get to see from Xbox next month, Spencer's messaging is clear. Microsoft is not sweating the competition at all just yet. In fact, it appears that Spencer and company are more confident than ever in the strength of the Xbox Series X. While we still don't have an official release date for the Series X (or confirmation regarding the existence of the discless Xbox Lockhart console), the new system is still on track for its Holiday 2020 release window.