The Real Reason Ninja's Deleting His TikTok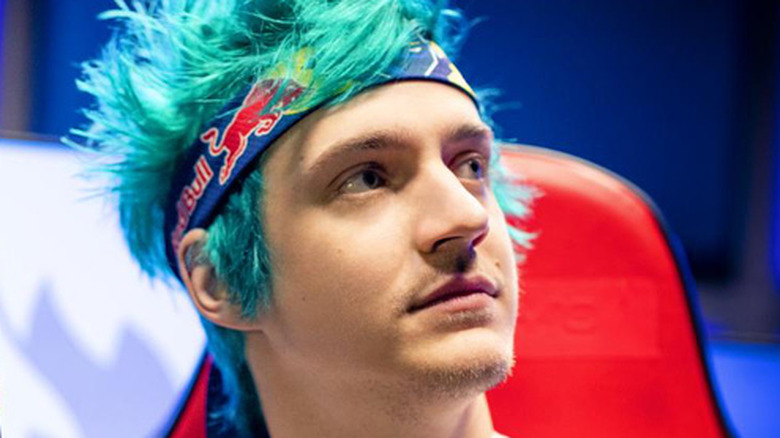 Sorry to everyone who has been following Ninja on TikTok. Fans of the superstar gaming streamer received some bad news this week, as Ninja has announced via Twitter that he has deleted his TikTok account and will no longer be using the social media platform.
Advertisement
According to Ninja, his main concern here is his privacy. There has been a lot of talk lately concerning what kind of user data is collected by the app. In a recent interview (via the Wall Street Journal), the United States Secretary of State Mike Pompeo actually intimated that the US was considering banning TikTok within the country. According to Pompeo, this was being looked into as a way of ensuring that Americans didn't find their own personal data "in the hands of the Chinese Communist Party." 
Ninja seemed to echo these points when he tweeted his decision to leave TikTok. He wrote, "I have deleted the TIK TOK app off all my devices. Hopefully a less intrusive company (data farming) that isn't owned by China can recreate the concept legally." However, he also gave a shoutout to the "funny and amazing content on the app from influencers."
Advertisement
One follower accused Ninja of making a big public show of deleting TikTok for business reasons. With all of the rumors swirling around where Ninja will stream next (be it YouTube or Facebook Gaming), people are reaching for any and all signs. This one person theorized that Ninja was leaving TikTok because he's signed an exclusive deal with Facebook's new competing app called Lasso. This person said that Ninja was trying to keep this a secret and concluded, "It isn't cool to lie to your audience."
Ninja sarcastically shut this accusation down, responding, "omg how did you know?!"
There have been plenty of conspiracy theories surrounding Ninja's plans following this month's closure of Mixer. Some have even suggested that the streamer has teamed up with some other content creators to form a new streaming platform called Brime. However, none of that seems to have proven to be true. In other words, it seems like Ninja's claims of wanting to protect his privacy should be taken at face value.
Other followers have pointed out that plenty of the other social media platforms that Ninja is on also collect user data. These include Facebook, Instagram, and Twitter, all of which Ninja has a presence on. In other words, some people don't seem to understand why Ninja would draw the line here when he already has such an overwhelming online presence.
Advertisement
One fan tweeted, "Everything collects data. Google collects data. Facebook and Twitter collect data ... but TIKTOK IS AN ISSUE?"
For its own part, TikTok has been fielding accusations from the US government of being a threat to national security. The threat of being banned in the US has led to TikTok releasing statements in an attempt to ease the unrest.
"TikTok is led by an American CEO, with hundreds of employees and key leaders ... in the US," a TikTok spokesperson told Business Insider. "We have no higher priority than promoting a safe and secure app experience for our users. We have never provided user data to the Chinese government, nor would we do so if asked."
It's no surprise that so many fans have spoken up in defense of TikTok. A fairly recent report from DataReportal showed that TikTok has over 800 million active monthly users. With such a massive viewership, it's almost impossible to imagine a content creator of Ninja's stature stepping away from the app. However, that is exactly what has happened.
Ninja has been using TikTok since last year, so he has naturally built up quite a following on the platform. His videos are usually goofy and lighthearted, acting out relatable scenarios like arguing with your parents when you're trying to play a video game. He has also received some criticism for his posts on TikTok, including from fellow streamers. Earlier this year, Dr Disrespect roasted Ninja's TikTok output. He said that Ninja made "the worst TikToks" and encouraged the streamer to "knock it off." These criticisms weren't enough to drive Ninja away from the app, so it really seems like Ninja is taking these privacy concerns seriously.
Advertisement
Despite the fact that Ninja has deleted the app from all of his devices, it appears that he decided not to delete his account. For fans who want to revisit some of the streamer's older TikTok content, it looks like it's all still there to browse through.