We May Finally Know Why Ninja Turned Down $60 Million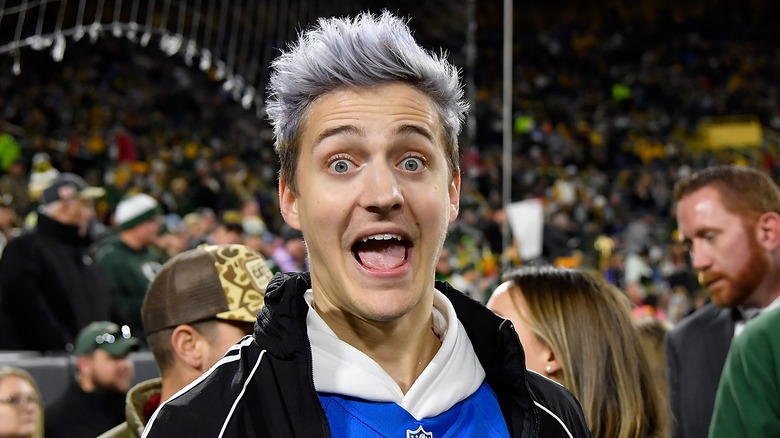 Quinn Harris/Getty Images
Ever since Microsoft's decision to shutter its Mixer platform, big name streamers like Ninja and Shroud have become free agents. It's still unclear what their next moves may be. However, we may have just gotten a bit of an idea about Ninja's future from one of his frequent collaborators, Ali "SypherPK" Hassan.
In a recent episode of The Courage & Nadeshot Show, SypherPK came on as a guest to discuss the gaming and streaming world at large. Naturally, the topic of Ninja and Shroud came up. In particular, Courage and Nadeshot wanted to know what Sypher thought Ninja's game plan might be.
According to some reports, both Ninja and Shroud were offered double their original Mixer deals to move over to Facebook Gaming, and both declined. This means Ninja walked out on a reported $60 million. Considering the fact that SypherPK has been Ninja's Duos partner since March, the hosts wanted to know if he had any insight regarding Ninja's next moves, as well as why he would turn down such a hefty paycheck.
In SypherPK's eyes, it all comes down to building a brand. As Sypher pointed out, Ninja lost a hefty number of viewers when he made the jump from Twitch to Mixer, but he took "a leap of faith" in doing so. SypherPK thinks that Ninja ultimately moved to Mixer in the first place because he and his team saw it as an opportunity to expand Ninja's brand in new ways.
On the subject of why Ninja would turn down that alleged $60 million, Sypher said, "My understanding, and if I was in his position, is that now is the time to reclaim and really blow up the Ninja brand ... [Ninja and his team] have to believe that they are going to make the ninja brand worth way more than that 60 million and going to Facebook could potentially block them from reaching their full potential."
SypherPK went on to explain that, as a free agent himself, he is in a situation right now where he is fielding offers. In other words, he has a bit more insight into where Ninja's head may be at than some other people. That's why SypherPK thinks a big part of Ninja's decision-making at this time is figuring out how best to grow his brand and build a better foundation for his future, rather than simply jumping at a paycheck.
At this point, we have had a few hints as to what Ninja's plans are for the future. There have even been a few weird conspiracy theories surrounding upstart streaming platform Brime. According to one theory, Ninja was developing Brime in secret alongside Dr Disrespect and a few other notable streamers from both Twitch and Mixer. Brime has recently revealed it is not affiliated with Dr Disrespect, so it's very likely that the rest of the conspiracy theory was inaccurate as well.
It's looking more and more likely that Ninja is going to join YouTube Gaming. He streamed on YouTube earlier this month — notably without any official contractual obligation to do so — and it was a huge success. Even though Ninja had been streaming exclusively to Mixer (and Twitch before that), his YouTube channel is still massively popular. As pointed out by YouTube Gaming's Ryan Wyatt, Ninja has around 2.2 billion views on his YouTube channel alone. If Ninja wanted to start on a new platform with a built-in viewership, it certainly seems like YouTube would be the way to go.
It's especially interesting to hear SypherPK's perspective on this situation, given his close working relationship with Ninja in recent months. However, it's also interesting to note that so much of Sypher's insight seems to be mostly speculation. This should tell us that whatever Ninja has planned, he's playing it close to the chest.
Speaking of speculation, elsewhere in the interview, SypherPK gave his thoughts on the developing situation involving Dr Disrespect's mysterious Twitch ban. Though Sypher is as puzzled as everyone else, his theory is that "boring legal stuff" is what is keeping everyone from learning the truth. However, he did make an extremely good point that could also be applied to the speculation surrounding Ninja and his streaming future. 
SypherPK said, "In the gaming world, secrets are not kept ... There's leaks all over the place. Like, no game could update without people already knowing what the updates are. No deals happen without people knowing the numbers and details."
And yet, here we are. Everyone is still waiting to see what's going on with Ninja, but it really seems like SypherPK has a strong hunch.