GTA Online Leak Suggests A Big Change Is Coming For PS5 And Series X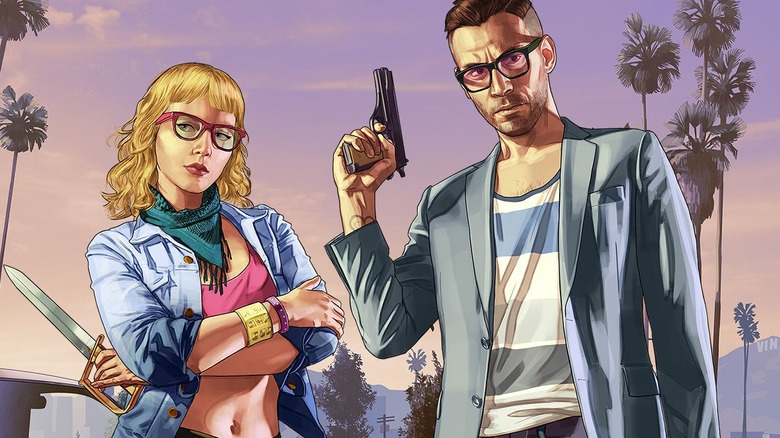 Ever since the next gen version of Grand Theft Auto 5 was first announced at Sony's big Future of Gaming livestream event, there have been a lot of questions about what to expect to from this iteration of the game. Some fans expressed their frustration that Rockstar was continuing to push an older game in lieu of Grand Theft Auto 6. 
Advertisement
Notable game info leaker and journalist VideoTech_ shared a listing on his Twitter account that points to some interesting developments for the next gen version of GTA 5. According to the listings he's found on multiple sites, Grand Theft Auto 5 may launch with some new updates that will please fans. While we already know that there will be some exclusive content added to this version of the game, it appears that next gen Grand Theft Auto Online will allow up to 64 players in a single game. This is double the number that is allowed on current gen platforms, so fans may be able to look forward to even more chaos in the new version.
That's a pretty good indicator of where Rockstar's head is at in developing the latest rerelease of Grand Theft Auto 5. It seems the goal is to be bigger and better than ever before, which should please fans who feel like they've seen everything Grand Theft Auto Online has to offer.
Advertisement
Fan response to this has been mixed, so far. One person tweeted that this would be great for Red Dead Online, but that GTA Online fans may make things too crazy. Another fan felt that the only way the extra players would work is if the map is larger than the current one.
However, there was another thing about this listing that may not sit quite so well with fans. In another interesting aspect to this leak, it appears that newcomers to GTA 5 and Online will have to pay full price for the base game. The listing appears to show the game costing $74.99. If you're thinking that sounds pretty steep, it actually lines up with rumblings we've been hearing regarding next gen game prices. Just like the PlayStation 5 will cost more to manufacture, so too will PS5 games most likely be more expensive. Therefore, many companies are anticipating a price hike for individual games. It's worth noting that Ubisoft has actually said it will attempt to keep games at current price points, but it's unclear if other publishers will follow suit.
It's also unclear whether or not Rockstar will end up offering free upgrades for PS5 owners who already have GTA 5 for the PlayStation 4. Whereas Xbox is pushing for free upgrades to games as part of its Smart Delivery initiative, it is rumored that Sony is giving publishers the option of whether or not they want to offer upgrades. If this part of the leak is to be believed, Rockstar is planning to charge $74.99 for a game that will be eight years old when it releases for the PlayStation 5.
Advertisement
Needless to say, it's this part of the leak that isn't sitting well with fans. One fan tweeted that there's no reason a remaster of a preexisting game should cost the same price as a new release, expressing their hope for a free upgrade. Others hoped that the price was just a placeholder and would be updated if or when the listing is confirmed. One person tweeted, "What the hell man. Unreal. Even for [Rockstar]."
As VideoTech_ mentions in their posts, there is always the chance that these aren't correct listings and could change in the future. With that in mind, VideoTech_ urges GTA fans to take this news "with a grain of salt for now."
As of this writing, Rockstar has not commented on the accuracy of the listing, including any of the rumored features or the price point. Hopefully we will hear something soon, because Rockstar fans are already pretty on edge. Recent months have brought multiple petitions from fans who want new content added to Rockstar releases. Even the most hardcore fans have been disappointed by a lack of single-player DLC for Grand Theft Auto 5 and Red Dead Redemption 2. In fact, Red Dead Online fans got so frustrated with the lack of updates that they started dressing up like clowns within the game.
Advertisement
Some fans just want to know what to expect from the new GTA 5, and this leak has seemingly only confused everyone's expectations. As one fan put it, "Their first unveiling of it left really bad impressions, so [Rockstar needs] to make whatever impression they want to make fast. More PS3 era footage won't cut it."
We'll keep an eye out for any updates regarding the next gen version of Grand Theft Auto 5.