PS5 Price Reportedly Leaks Again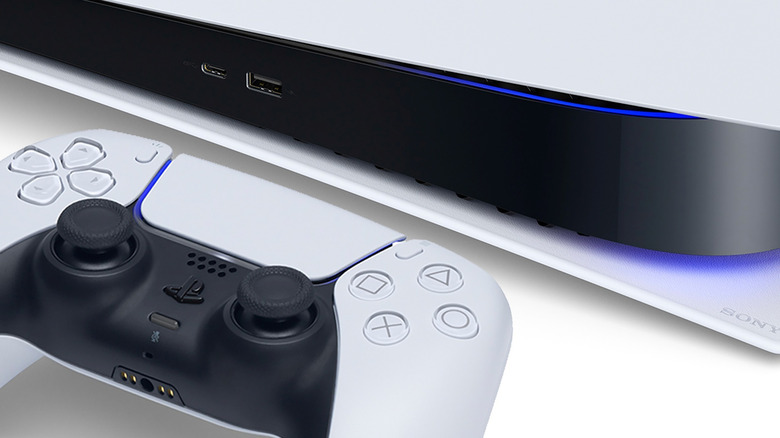 Sony
The holiday season is fast approaching, yet PlayStation fans still don't know what to expect regarding the price and release date of the PlayStation 5 or PS5 Digital Edition. However, a new leak online may give gamers the best idea yet of what to expect when the PlayStation 5 finally hits store shelves. 
The latest leak seemingly comes from the Spanish retailer El Corte Inglés. A picture was posted to a Spanish video game forum (via BGR) that seemed to show a computer displaying an inventory screen for El Corte Inglés. Along with listing multiple Nintendo Switch bundles and consoles at different (seemingly accurate) price points, the screen also displays two oddball console names at the bottom: Aurea and Enigma. The Aurea is listed at €499.90, while the Enigma apparently carries a price of €399.90.
Sure, those console names might not be ringing a bell at the moment, but there's probably a pretty good reason for that. When highly-anticipated items with strict street dates ship out, they typically do so with a codename of some kind. This can usually keep leaks like this from spreading too far, and can also help to prevent theft of the product in question. 
Considering the price points and the fact that these two mystery machines are listed on the same page as multiple other video game consoles, it can be presumed that these two names are stand-in titles for the PlayStation 5 and PS5 Digital Edition. If that is the case, then fans can probably expect the PS5 to retail at right around $500, while the Digital Edition will hover around $400. While this would put the PS5 Digital Edition at a higher price than the Xbox Series S, it's worth noting that the two systems have very different features, so the PS5 Digital Edition may actually cost a bit more to manufacture.
It's not likely that these two listings are for consoles that have already had their prices revealed. As pointed out by BGR, "Considering that Microsoft already announced the Series S, as well as pricing for two devices, the Aurea and Enigma can't be codenames for new Xbox models. Not to mention that the prices don't exactly match Microsoft's."
Another piece of evidence that seems to point to this leak being the real deal is how closely these prices resemble leaks that have come out in the past. Back in June, the price for the PlayStation 5 seemingly leaked on Amazon France. The standard PS5 was listed at €499, while the Digital Edition was listed at €399. These listings were quickly taken down and were generally assumed to be a placeholder or a simple mistake. However, it's starting to look like these price listings may have been accurate, after all. 
It should be very interesting to see how fans respond to these price points, should they turn out to be the real deal. Recently, IGN posted a poll to find out which upcoming consoles were currently most popular. The poll asked readers, "Now that we have more info on some next-gen console prices, which do you think you're most likely to buy first?" 
In this poll, the PlayStation 5 was far and away the winner, which would also seem to line up with recent research studies showing PlayStation as the victor in the upcoming console war. Whether or not these price points will change anyone's minds should become obvious in the near future.
The good news is that fans probably won't have to wait too terribly long to receive confirmation on these prices. Seemingly in response to the reveal of the Xbox Series X price and release date, Sony has decided to schedule a PS5 presentation for later this week. On Wednesday, Sept. 16, Sony is expected to be making some big PS5-related announcements during a special livestream event. 
According to a post on the official PlayStation blog, "Our next digital showcase will weigh in at around 40 minutes, and feature updates on the latest titles from Worldwide Studios and our world-class development partners." While this announcement doesn't directly mention a PS5 price and date reveal, it wouldn't be too much of a surprise at this point. After all, Xbox Series S leaks led to Xbox finally announcing both it and the Series X's release date and price. With only a few months left in the year, it would make perfect sense for PlayStation to follow suit. 
Hopefully fans will have a straight answer regarding the PS5's price within the next few days. In the meantime, these latest leaks should give people plenty to think about.