Xbox Is Adding Another Color To Its Line-Up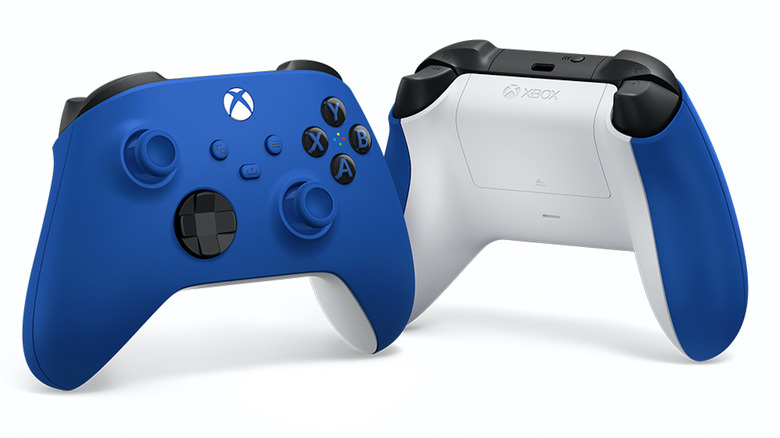 Xbox
Preorders for the Xbox Series X and Series S begin on Sept. 22. As with the launch of any new consoles, fans are already wondering about what kinds of options will be available for them during the lifespan of the console. Luckily, Microsoft has just announced some new accessories that will liven up the room a little bit and add some flavor to the all-black Series X and the all-white Series S.
The Xbox Series X and Series S already boast some impressive-looking controllers. The Series X ships with the Carbon Black style controller, while the Series S comes packed with a Robot White controller. While those are already pretty sleek, they are only the tip of the iceberg. A recent blog post from Xbox's Director of Product Marketing, Navin Kumar, has confirmed that this year will see new color schemes being introduced for next-gen Xbox Wireless Controllers.  
In November of this year, Xbox will be releasing three new controller styles. Two of them are bundles for gamers who like to use Xbox controllers on PC. These will be made available in the new Carbon Black and Robot White styles. According to Kumar, "These new controllers feature a more-inclusive, ergonomic design and performance-boosting updates now standard on all new Xbox Wireless Controllers."
The most exciting of these new controllers, however, is definitely the Shock Blue Wireless Controller. This is the one that much of the blog post focuses on. This isn't all that surprising, especially since the Shock Blue controller has quite an interesting look to it. 
Navin Kumar described the Shock Blue Wireless Controller as featuring "a vibrant new hue, not yet seen on any of our previous controllers. The striking blue top case is accented by the bold, black hybrid D-pad and ABXY buttons and softened by the crisp, white back case for an eye-catching look." Kumar also confirmed that the Shock Blue Wireless Controller "is optimized for next-gen game play," just like the standard Series X and Series S controllers.
The official reveal of the Xbox Series S proved to fans that Microsoft isn't dead set on a singular color scheme for its next generation consoles and accessories. This latest announcement makes it clear that fans will at least have some options in the near future when it comes to peripherals. It remains to be seen if full consoles will be released in alternate colors, but it's a pretty good bet.
Customers have been hoping for alternate editions of the Xbox Series X pretty much since the console was first announced. Shortly after the initial unveiling of the Series X design, noted fan artist BossLogic made some fake designs for fun. While it is highly unlikely that Microsoft will actually make a Series X console that looks like Han Solo frozen in a block of Carbonite, it's a pretty brilliant alternate design concept. Likewise, there's almost chance that Marvel fans will ever get to buy an official Series X modeled after the Infinity Gauntlet, but it's still okay to dream.
While PlayStation's Matt MacLaurin has hinted that the upcoming PlayStation 5 will eventually have some wild special editions, Sony has yet to announce any options for the new DualSense controller outside of the standard color palette. Back in July, PlayStation's Eric Lempel said that other DualSense colors would happen "at some point," but there are apparently no plans to release any alongside the console launch. For now, it looks as though Xbox is leading the pack when it comes to controller options.
While the new color options that are being afforded to gamers are pretty cool, there was another bit of surprising news that came with Xbox's controller announcement. As of Oct. 14, 2020, the Xbox Design Lab will be taken offline for an extended period of time. Since its launch in August of 2016, the Xbox Design Lab has allowed customers to design and purchase their own custom Xbox controllers. It seems that the Xbox Design Lab is being taken down while Microsoft makes some updates to the service and prepares to switch over to the next console generation.
It is currently unclear how long the Xbox Design Lab will be unavailable. According to the announcement from Xbox, however, it will be "returning in 2021." In the meantime, Xbox encouraged customers to order any potential holiday gifts through the service before the cutoff date of Oct. 13. Until that date, customers will still be able to build and order their own customized Xbox One controllers. It can then be presumed that the service will offer more customization options for Xbox Series X and Series S controllers when it comes back online sometime next year.
The Xbox Series X and Series S release on Nov. 20, 2020. The other controller styles will presumably launch roughly around the same time. However, preorders for these brand new controllers will begin on Sept. 22, alongside those for the Series X and Series S.