The PS5 Digital Edition Has A Big Disadvantage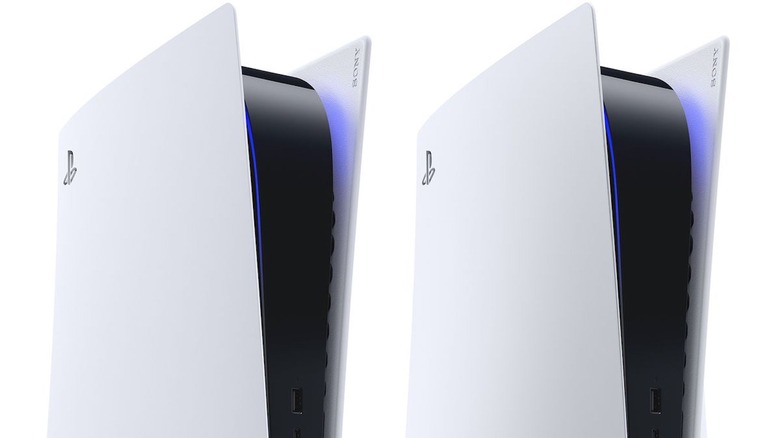 The differences between the PlayStation 5 and the PS5 Digital Edition are pretty obvious at a glance. The Digital Edition is similar to the Xbox Series S, in that it will not feature a disc drive. Although the fully-digital console may cut back on clutter and sell at a lower price point, the PS5 Digital Edition also comes with some major limitations.
In a new blog post, PlayStation has revealed that cross-gen upgrades and backwards compatibility may be somewhat more difficult than anticipated. This is particularly true for anyone planning to buy the PS5 Digital Edition. While the disc-less machine is significantly more sleek than the version with the Ultra HD Blu-ray drive, that lack of disc functionality may prove to be a pain for gamers hoping for backwards compatibility.
Owners of the standard PlayStation 5 will be able to play all compatible PS4 games on the console, in both digital and physical formats. However, the PS5 Digital Edition will only be able to play digital copies of games. This means that any physical copies you have of PS4 games will not be playable on the PS5 Digital Edition. Likewise, gamers will not be able to obtain a cross-gen upgrade for any physical PS4 games to play on the PS5 Digital Edition. 
Presumably, this is because there's no way to prove sole ownership over a disc, which makes a certain amount of sense. Still, it's a real bummer for folks who were hoping to move all of their physical media over to the all-digital console. Basically, you're stuck with only your digitally-purchased games on the Digital Edition.  
The only way to make sure that you can both upgrade compatible titles and play older game discs on the PS5 is to have the standard edition. Even then, Sony is leaving it up to the publishers whether or not they want to offer next-gen upgrades for PS5. Overall, it seems like the Digital Edition's lack of a disc drive is going to be more of a curse than a blessing.
Elsewhere in the blog post, PlayStation addressed how gamers will be able to maintain their save data when they make a cross-gen upgrade. Of course, PS Plus subscribers will still be able to sync their save data across platforms, but things change a bit when cross-gen upgrades are involved. Sony's general idea for save transfers is a simple one, but the execution sounds like it may be a little more scattered than Sony intended. Basically, if you upgrade from the PS4 version to the PS5 version of a game, your save data will transfer — for most games. According to PlayStation, this has not been implemented across the board.
"Please note that the ability to transfer game saves between a PS4 version and a PS5 version of the same game is a developer decision, and will vary title by title for cross-generational games," the blog post clarified.
PlayStation's post actually used two specific cross-gen games as an example of how save file transfers will work, those being Spider-Man: Miles Morales and Sackboy: A Big Adventure. Unfortunately, the process of transferring saves is still not entirely clear, because it looks like both games will handle the process differently. With Spider-Man: Miles Morales, save files will transfer automatically when making the upgrade. However, Sackboy will only support save file transfers after an update that will be coming at some point after the game launches.
Although Sony's approach to upgrades and save file transfers is still somewhat inconsistent, fans may be happy to hear that at least this part of the upgrade path for Miles Morales is rather simple. Spider-Man fans have been upset over how complicated Miles Morales' upgrade path has become. At least now, fans who purchase Miles Morales on the PS4 won't have to worry about starting their saves all over again when they upgrade to the PS5 version.
Sony also restated its promise that around 99% of the PS4 back catalogue will be playable on the PS5. Of course, if you have those games on a disc, you'll only be able to play them on the standard PS5 with a disc drive. Some fans may be disappointed in the fact that games older than the PS4 will not be playable on the PS5, but any level of backwards compatibility is still a victory for fans.
If you're confused by all of this, don't feel embarrassed. Even Xbox has taken shots at Sony for how convoluted the PS5's upgrades are.
Both the PlayStation 5 and PS5 Digital Edition arrive in stores on Nov. 12, 2020. Preorders for the consoles are sold out entirely, but there are still a few ways for you to make sure you get a PS5 on release day.